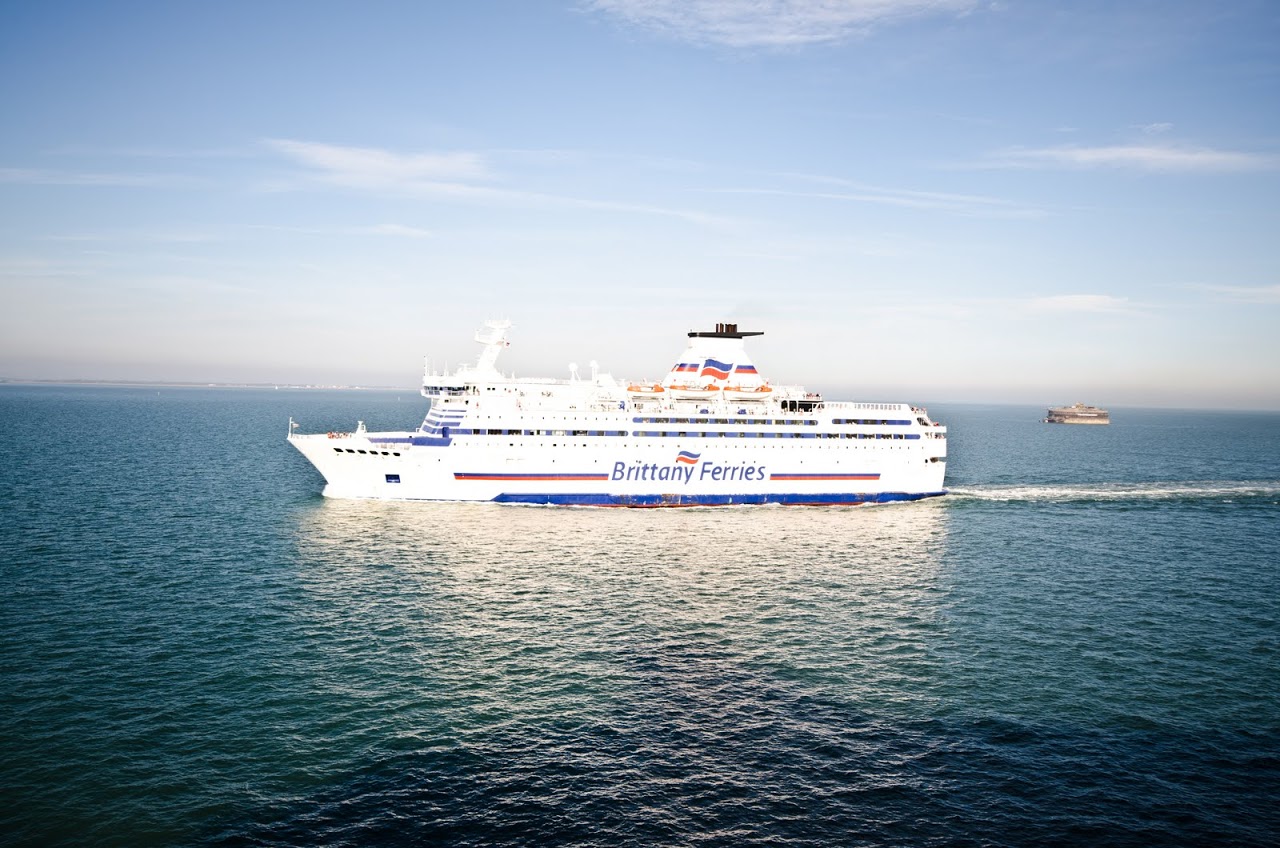 Brittany Ferries
The funny thing about travel is that before going to a certain country, we almost always assume that distances and transportation will take less time than it actually does.  I remember talking to someone in Thailand about where we lived in Atlanta and he said, "Oh, it's right near New York?"  I said, no, it was about a thousand miles away or two thousand kilometers and he just laughed at me as if he couldn't believe we were still a part of the same country.
Of course, European countries are much smaller than the United States but it still takes a very long time to get from country to country.  In particular, when I started mapping out how long it would take us to drive from England to Spain --- about 22 hours through France --- I decided that we would have to chuck Spain from our list of destinations.  And, then, I discovered the pet-friendly cabins on the Brittany Ferries Cap Finistere which makes frequent trips between Portsmouth, England, and Bilbao, Spain.
So, Spain was back on our list of destinations and we took Chewy and Abby with us in our cabin.  Below, I describe some of the details about the Cap Finistere pet-friendly cabins and the ferry, in general.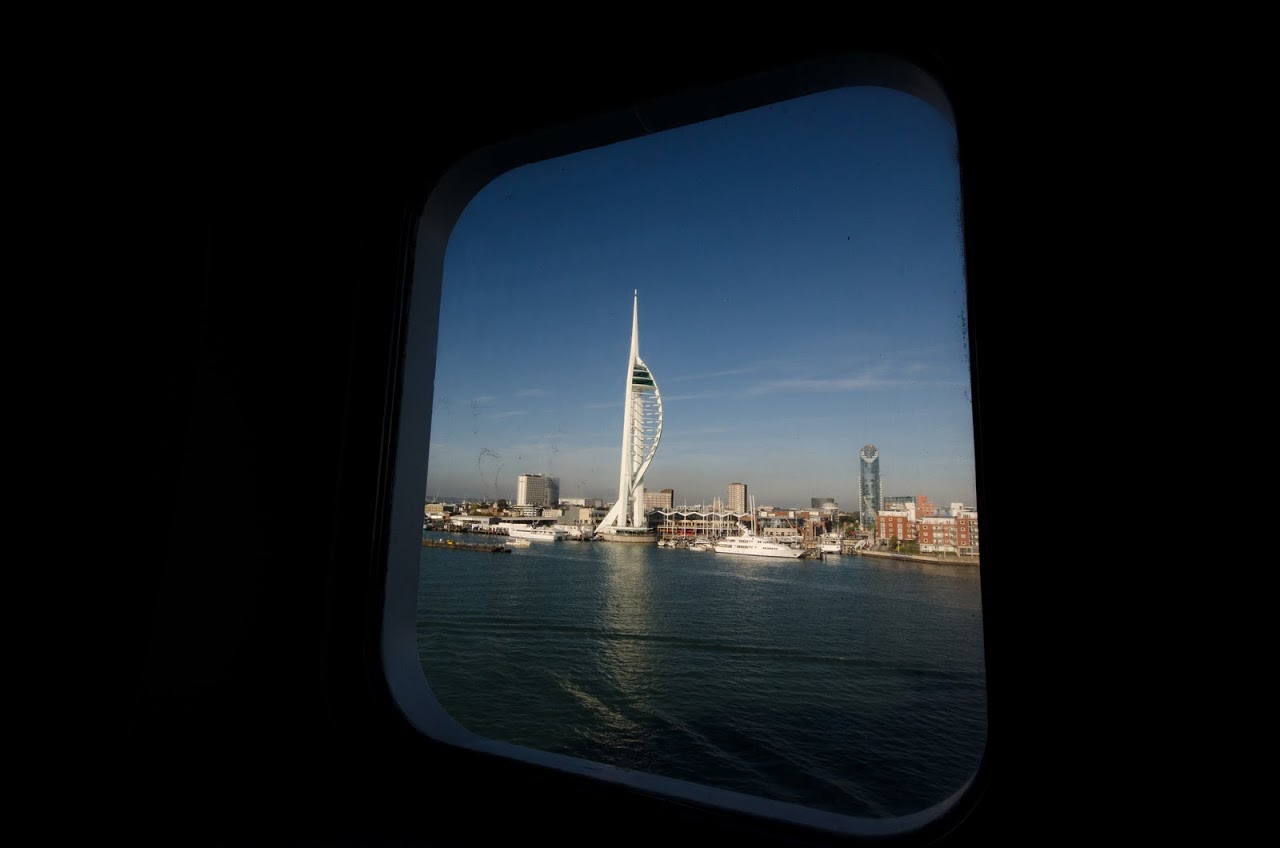 Window in our room with view to Portsmouth
How To Book a Pet-Friendly Cabin
In order to book a pet-friendly cabin on the Cap Finistere, you will need to call Brittany Ferries and request that they book a room for you.  When I called them, they told us that we could not keep both Chewy and Abby in the cabin together so one of the dogs would have to stay in a kennel and the other could stay with us.  They said that the reason they didn't want two dogs was because there wouldn't be enough space in the room for the dogs.  However, once we got on board, the conductor didn't care at all if we kept both dogs with us and we saw several other dog owners with multiple dogs in their rooms.
In total, we paid around $950 USD for two people, one car, and two dogs for a one-way ticket from Plymouth to Bilbao.  It is quite pricey but we figured that we would have spent the same amount on hotel accommodations, food, gas, and the Eurotunnel tickets, if we had driven over four days.
Appearance of the Pet-Friendly Cabin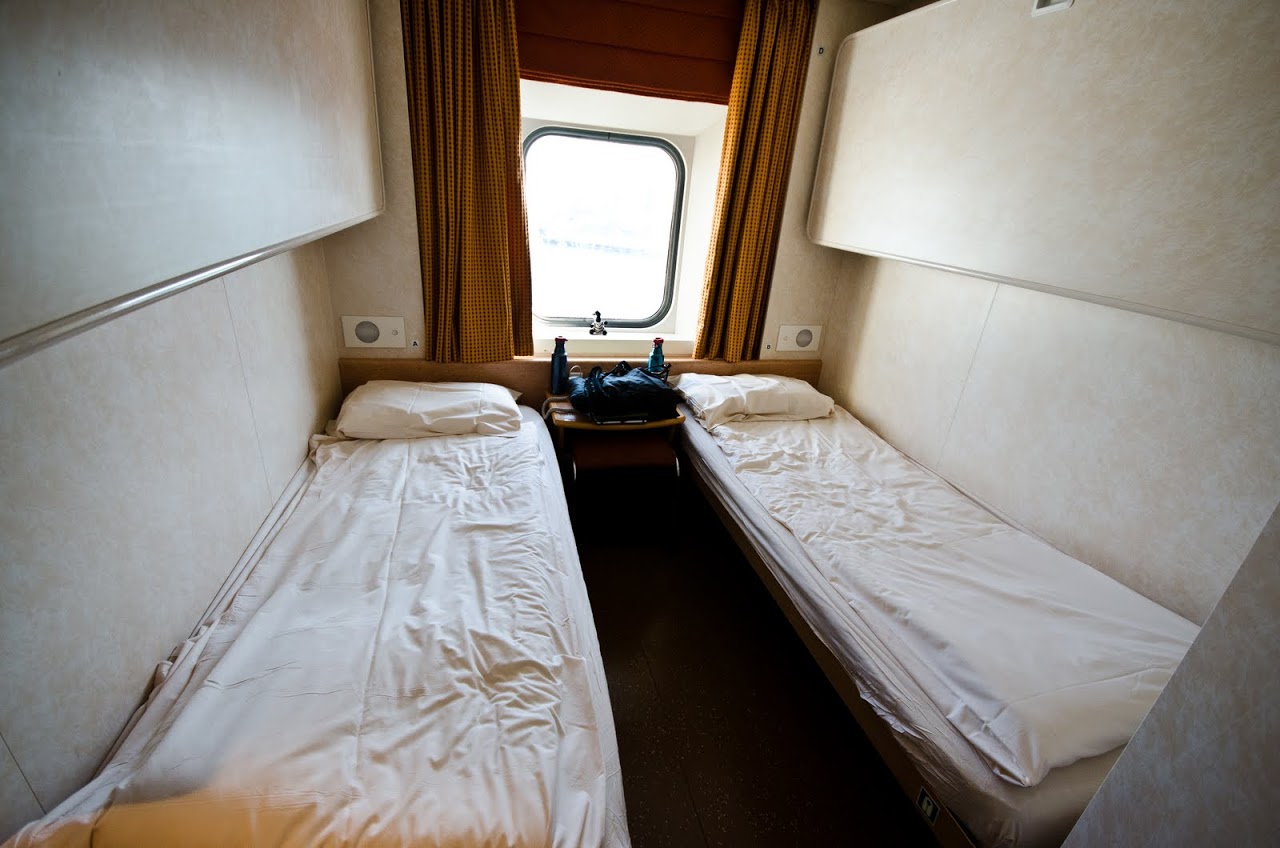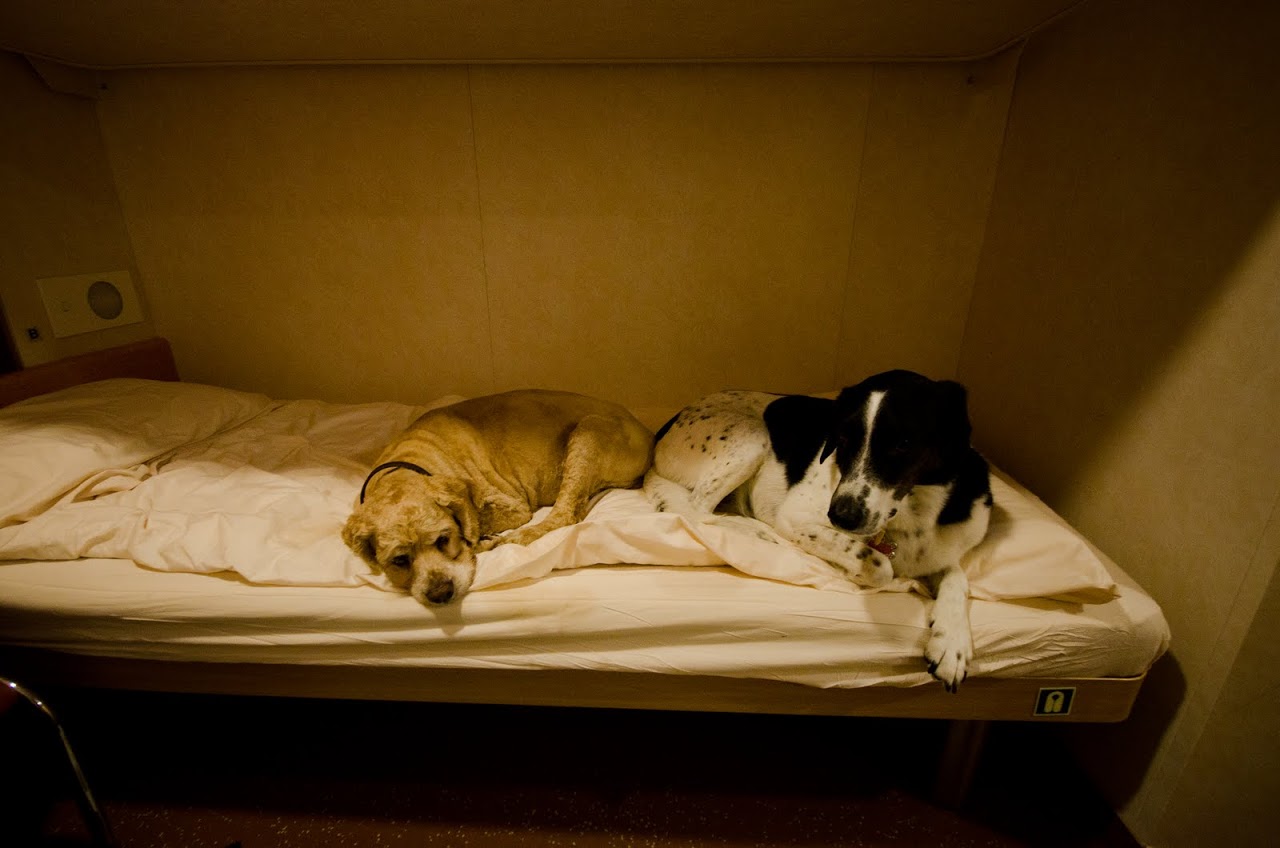 The pet-friendly cabin
The pet-friendly cabins are identical to a regular 4-person cabin except that they have a laminated wood floor.  These are fairly basic rooms with four berths, a small desk area and closet, and a tiny bathroom.  It was perfect for the 22 hours we were on the ship.
Because it is such a small room, we packed only the necessities for one night in two small backpacks and carried those aboard.  Even our few things basically filled up the room so pack LIGHT!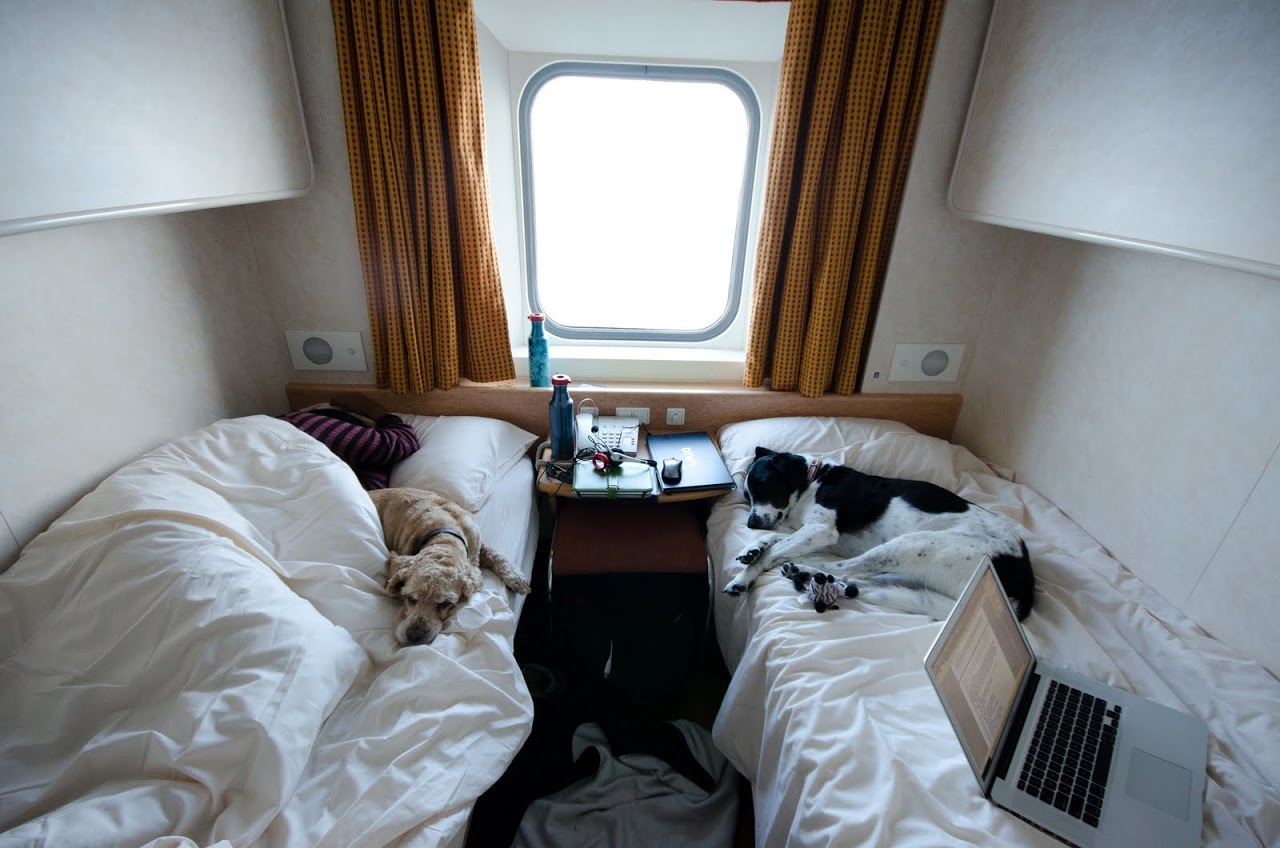 In the morning
Abby usually curled up underneath one of the bunks and Chewy sat with one of us on a bed (of course, we kept one of our own covers on the bed.)  The space isn't large so it was a bit tight maneuvering around with the four of us but we didn't do all that much --- just slept, worked on our computers, and took the dogs to the toilet area.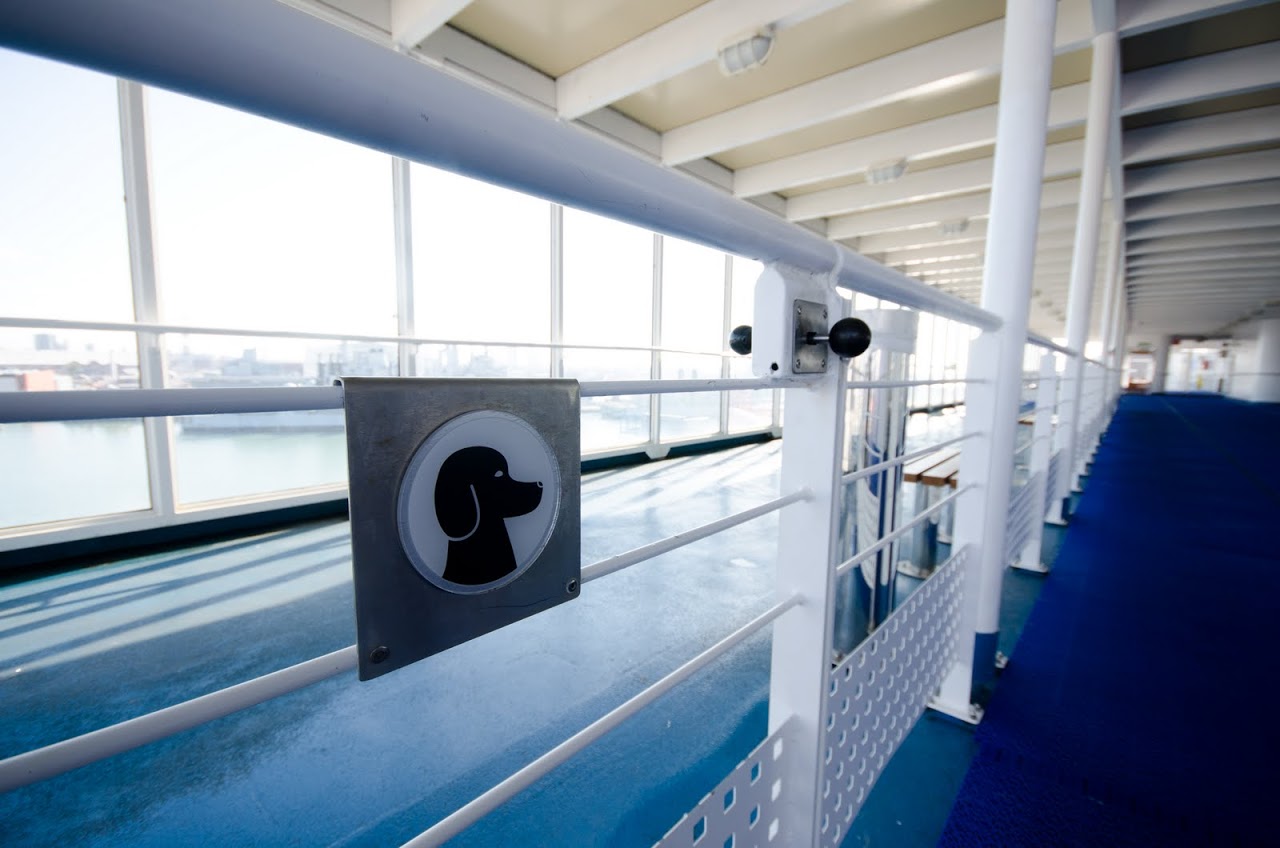 Pet area for pet-friendly cabin dogs
The dogs who were staying in the pet-friendly cabins had a separate area on the top floor designated for them to run around and use the toilet.  The area was reasonably large but got very messy quickly because Brittany Ferries only provided a hose and no mop to clean up after the dogs.  Both Patrick and I really wished they had a mop because by the afternoon on the second day, the place was a mini-swamp and neither dog wanted to use the toilet in that area.  (Actually, Chewy was so stressed from not being to use the toilet on the second day that he had terrible stomach problems afterwards.)
Kennels and Kennel Area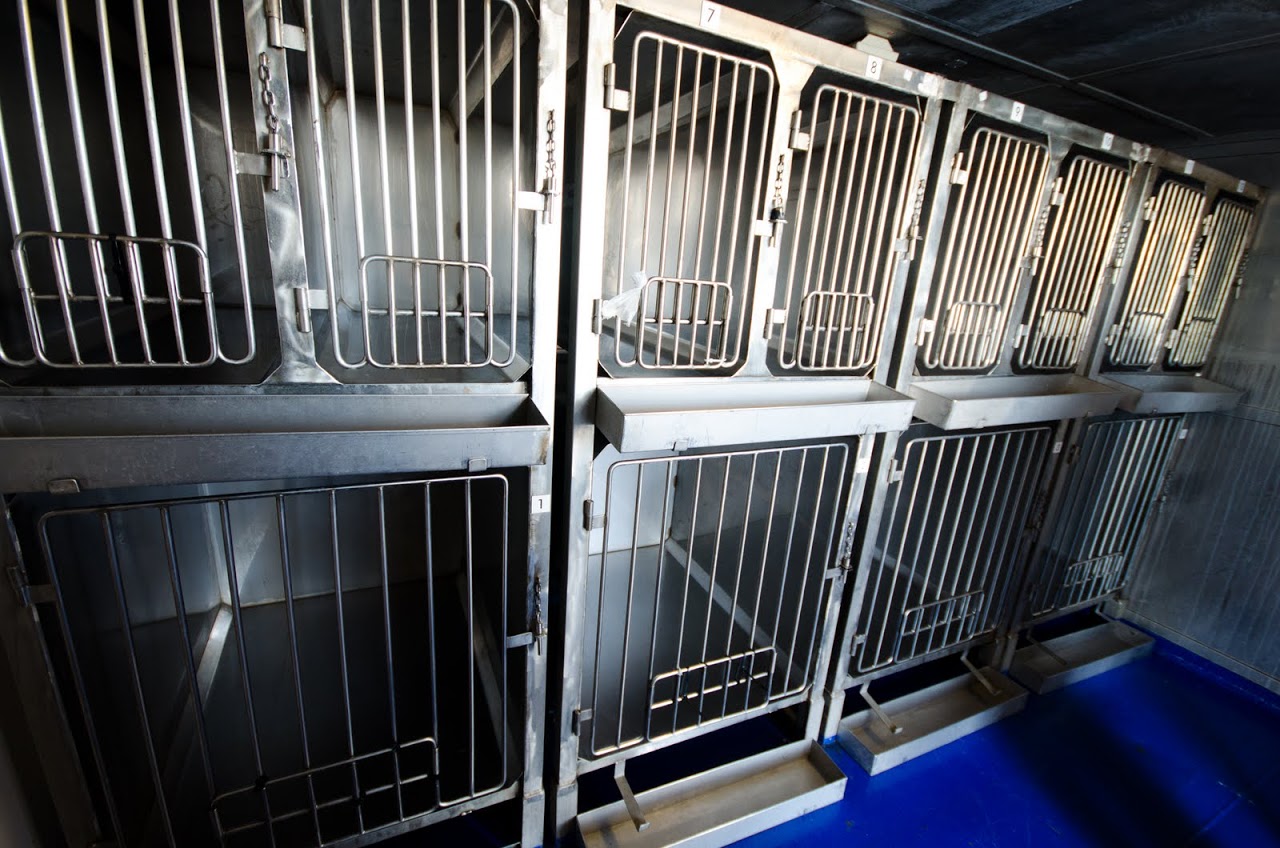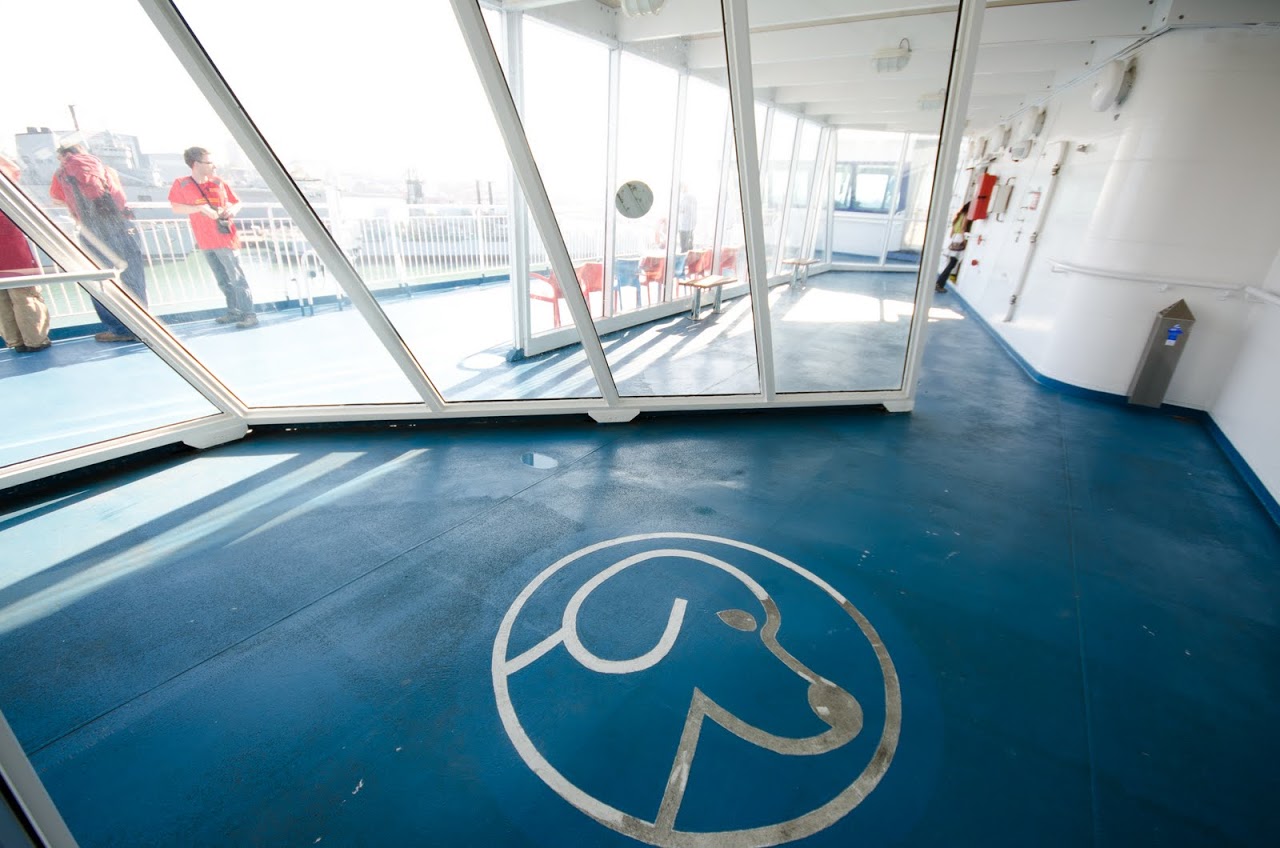 Kennel space
For larger dogs or families with more than two dogs, the kennel space may be more appropriate.  (Note: The pet-friendly cabins and the kennels cost the EXACT same amount so there is no financial benefit to choosing one over the other.)  The kennels are at the back of the top deck and are plain metal boxes, so you will definitely need to bring bedding for the kennel.  The outside area for the dogs near the kennels is huge and includes both a glassed-in covered area and an outside area so it's very comfortable for both the dogs and their owners.  We wished that the dogs who stayed in the cabins had access to this area but, unfortunately, it's separated from the other area with a restaurant in which dogs are not permitted.
Embarking and Disembarking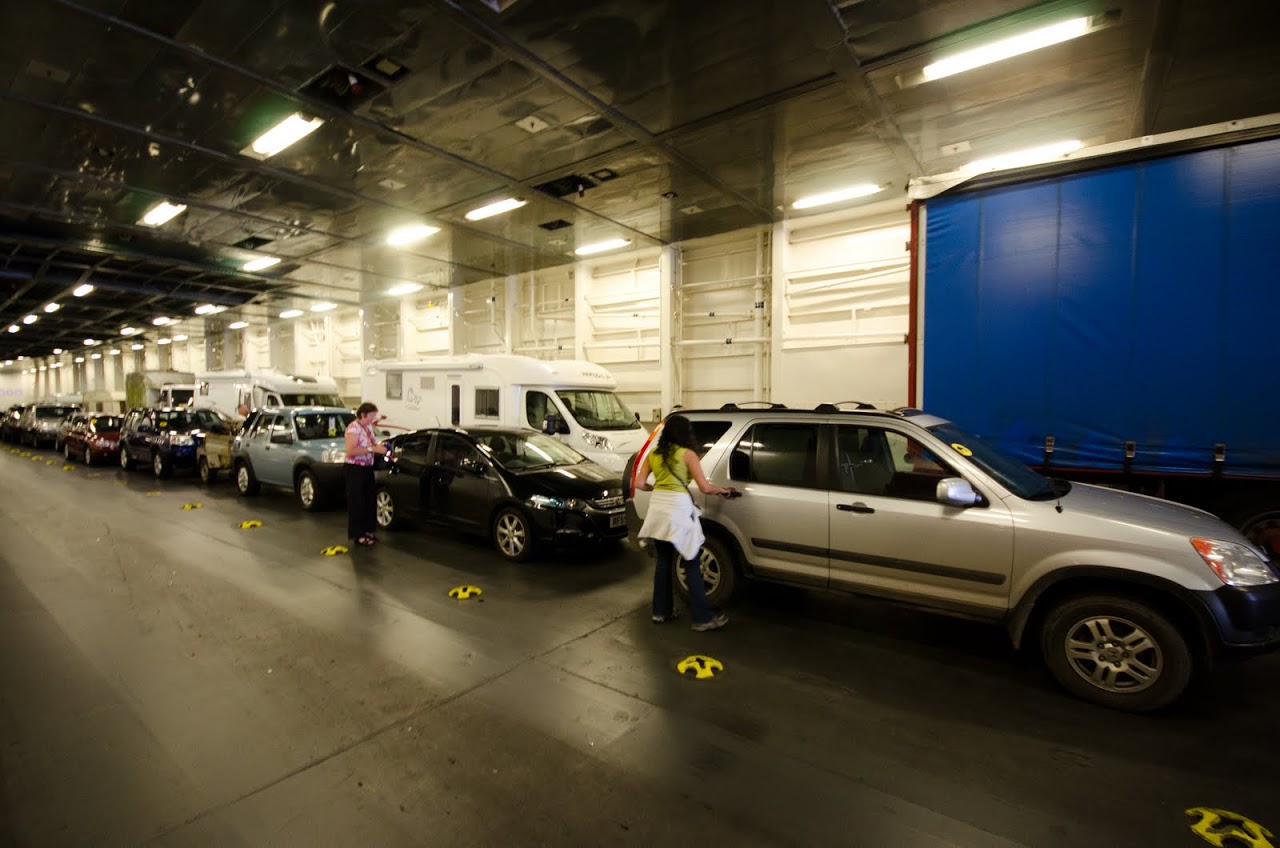 The garage area for the dogs
Brittany Ferries recommends that you arrive at their terminal at least 30 minutes before the ship departs.  We arrived an hour before and were one of the last people in line so I think it's worth getting there at least an hour beforehand.  The customs agent briefly looked at our passports and Chewy's and Abby's pet passports and then waved us through.  We waited in our cars for about 45 minutes and then were ushered on board.  The cars that have pets in them are the LAST cars allowed on board so I highly recommend finding a park before you get on ship.  (We had quite a bit of trouble finding a park in Plymouth so I can't give any recommendations on that front.)
Chewy and Abby on their way to their cabin
Once we parked, we took our things and went up to the room and left Chewy and Abby in the car.  About an hour after the ship left port, the concierge called us to meet at the main desk and all of the pet owners went to retrieve the dogs.  Dogs are required to wear muzzles when walking up to the cabin and the concierge asked one woman to carry her dog because she didn't have a muzzle.  We took an elevator up to Deck 9 and down a hallway without carpets in which all of the pet-friendly cabins are placed.  There is a door immediately outside the pet-friendly cabin area that leads to stairs to take the dogs to the toilet area on Deck 10.
Dogs are technically required to wear muzzles every time they leave the cabin but we never saw anyone putting muzzles on their dog, except for one woman who knew that her dog would snap and bite at others.
At disembarkation, the concierge called us an hour before the ship arrived in port and we took the dogs and our things to the car.  We walked around for a little while and then came and sat in the car with the dogs until we were ready to disembark.  We were the first car off the ship into Spain and the Spanish customs agent didn't even look at the dogs' pet passports!
Cap Finistere Ship Facilities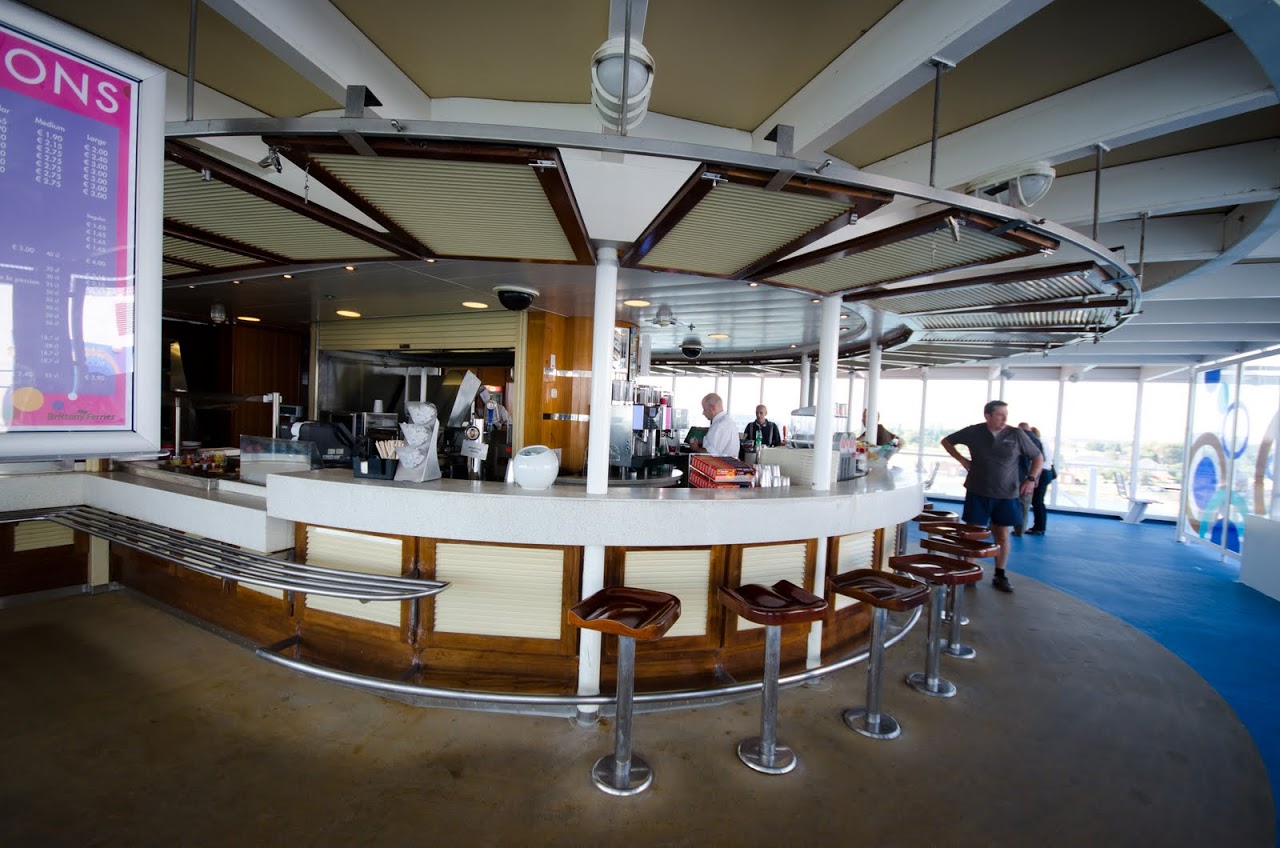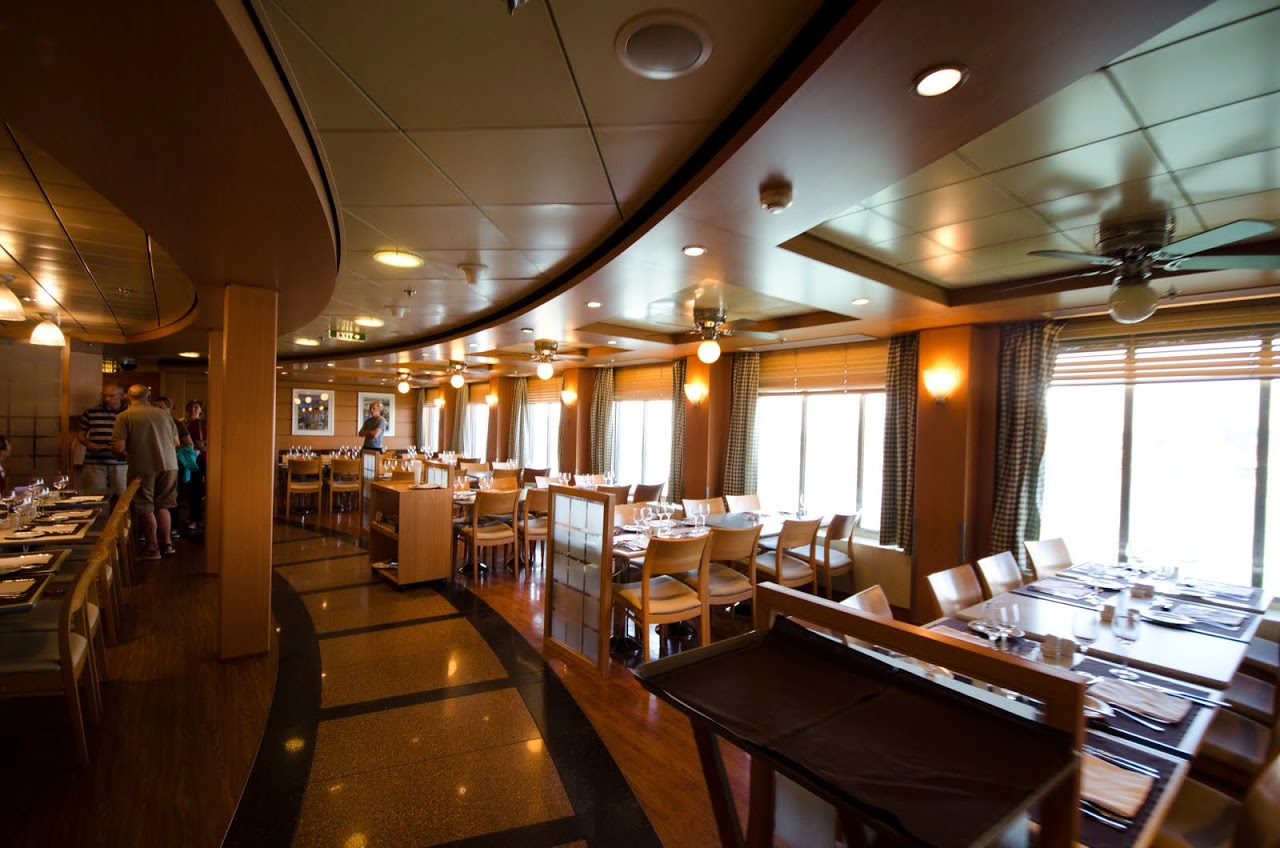 Snack bar and restaurant
The ship facilities include a deli/snack shop, two bars, a grocery area, and a full-service restaurant, plus a pool (that we never saw anyone using because it was too cold out), a small games area for kids, and a cinema.  The restaurant was quite expensive so we opted to eat at the snack bar which served passable sandwiches and pizzas.  If we went on the ship again, we would consider buying premade salads or sandwiches at a grocery and bringing them onboard with us because the food was overpriced for the quality.
Do We Recommend It?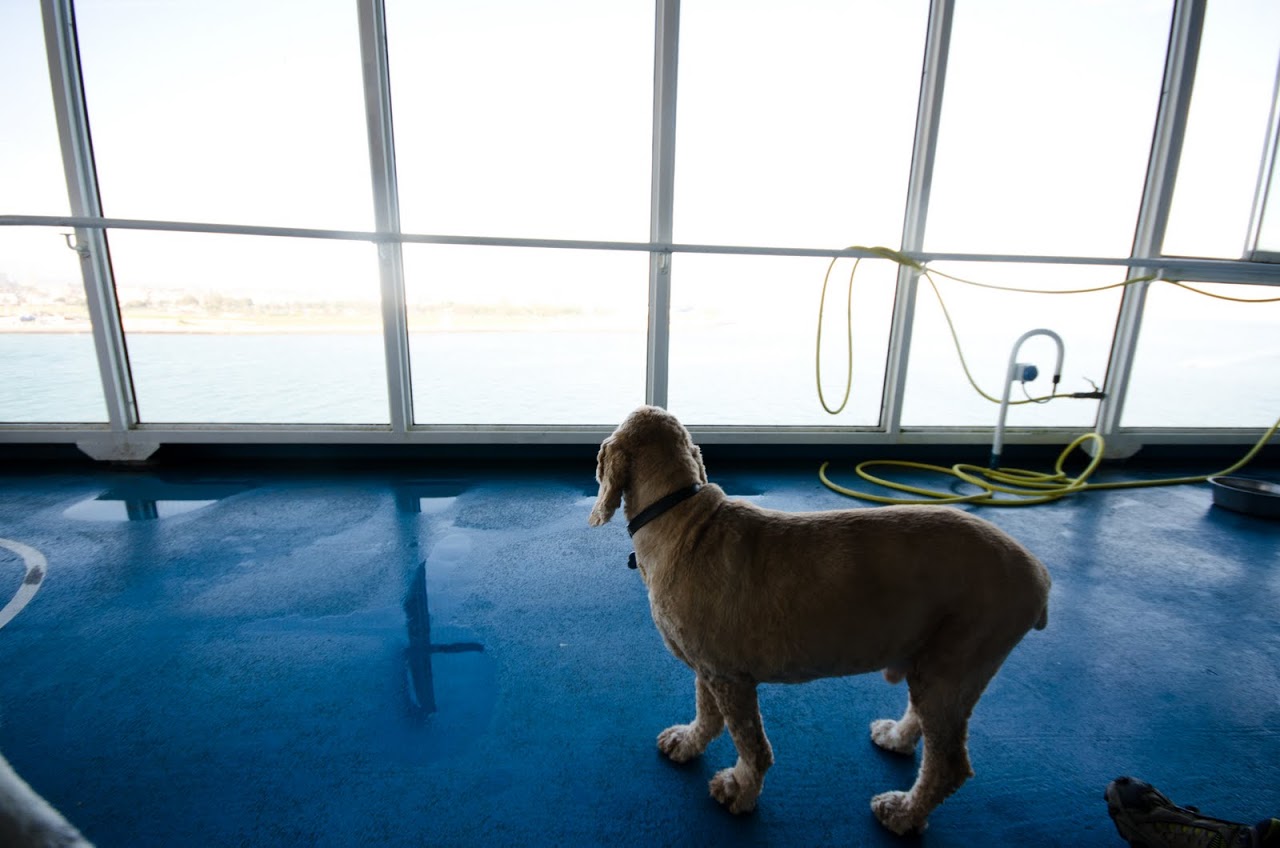 Chewy on the Cap Finistere
Yes.  The ship and especially the cabins were very comfortable though they both were stressed out by the journey.  If we were doing it again, we would make sure to take the dogs on a long walk before we got on the ship (we tried to do so but weren't able to find a good walk in Plymouth) and immediately after we got off the ship in Bilbao.  That would have helped both of the dogs a lot.