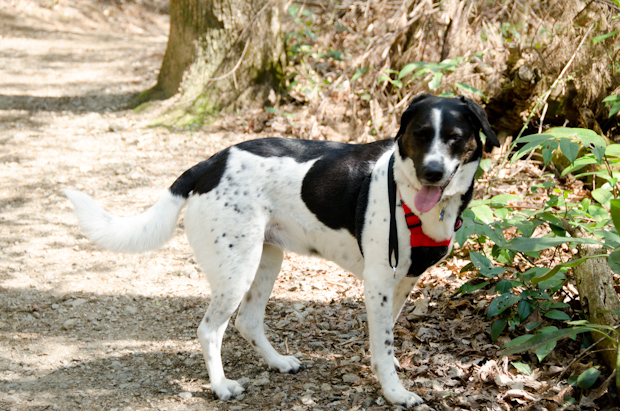 Abby in the woods
When we set off on round-the-world adventure in September 2009, we didn't have much in the way of plans.  We had a plane ticket into Australia and a few locations mapped out but, for the most part, we didn't worry too much.  We booked hostels last minute and flights with days to spare.  On more than one occasion, we scored last minute tour deals when the tours needed two people to fill empty spots.  That was then.
Now, as we get ready to head to Europe in less than 60 (!) days, I've been planning like crazy.  I know exactly where we are going and staying for the first four months of our trip.  I have researched ferries, trains, and overland transportation extensively.  I've probably put 80 to 100 hours of time into figuring out what we are going to be doing over the next year.
Why the difference?  Chewy and Abby, of course.  Planning travel with pets is much more . . . shall we say challenging to avoid any foul-mouthed asterisks . . . than without them.  Some of these challenges include:
Entering England from the United States
In order to take the dogs to Europe, we started preparing their vaccinations and paperwork over eight months ago.  We have been to the vet over four times in the last six months to ensure that all of the paperwork is properly filled out.  And, three days ago, I found out that all of our paperwork needs to be printed in BLUE ink rather than BLACK ink so I had to go back to my vet yesterday to have him re-sign their rabies vaccination certification.  It's been a headache to say the least.  (I'm going to do a full post on this whole process at a later point once we've got the entire thing completely finalized.)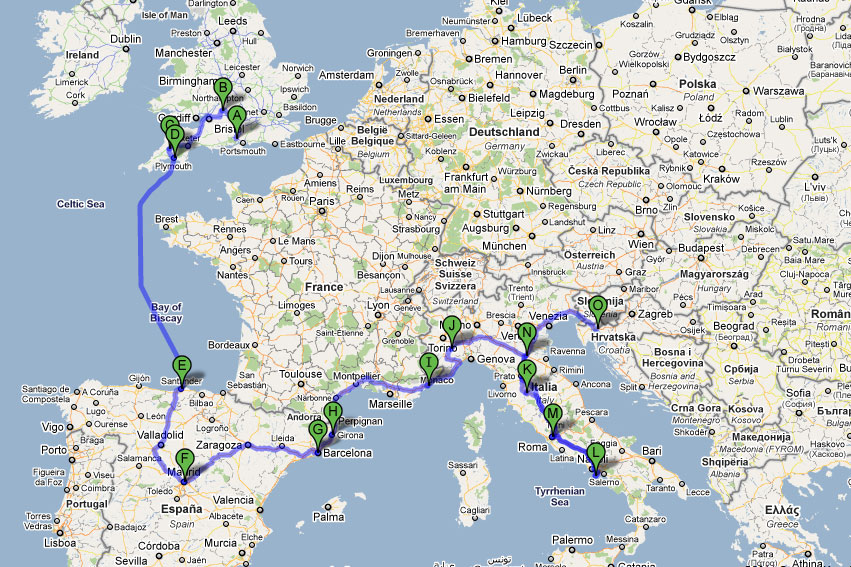 Our planned route
DEFRA vs. Schengen
Once we enter Europe, we run into other difficulties.  The Schengen agreement is a pact between 25 primarily western European countries which allows free borderless entry into those countries.  Unfortunately, American passport holders may only stay in the Schengen zone for 90 days at a time and then we have to leave the Schengen area for an additional 90 days before returning.  Most backpackers in Europe solve this problem by heading to the UK (which is not in the Schengen zone), eastern Europe, northern Africa, or the Middle East to avoid the Schengen issues.
We don't have all those options because Chewy and Abby have their own visa limitations.  Under the UK's DEFRA guidelines which we must follow because we need to reenter the UK in order to take our cruise back to the United States, Chewy and Abby can only visit certain countries listed in the DEFRA documentation .  If they go outside that list, they will be placed in quarantine for six months.  We certainly aren't going to let that happen.
The problem: the DEFRA approved list and the Schengen zone list almost identically mirror each other.  There are only six countries that are on the DEFRA list and not in the Schengen zone: the UK, Ireland, Croatia, Bosnia, Bulgaria, and Romania.  So, our plan is to land in the UK, spend one month in England, 3 months in the Schengen zone, 3 months in Croatia and Bosnia, 3 months in the Schengen zone, and 3 months in the UK and Ireland.  But, we have to be very careful not to drive through any of the non-DEFRA approved countries (such as Serbia or Montenegro).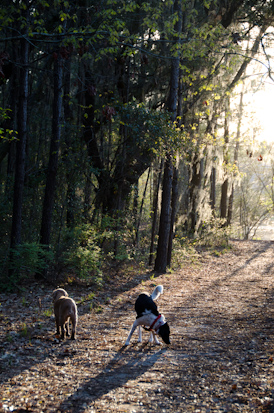 Walking with the dogs
Transportation
Most people who travel through Europe use public transportation, including the popular train system.  We aren't going to be using much public transportation because many of the trains don't allow dogs.  (Though, actually, the British Rail Network allows dogs on all their trains as long as they are on a leash.)  We also decided that it might be a bit difficult to manage our luggage and the dogs using only public transportation.
So, we're shipping our car over to Europe.  We considered renting a car for the entire 13 months but the price was an astronomical $20,000 USD (including insurance), for which price we could have bought a new car.  Shipping our car will run us around $5,000 for the year (including insurance).  But, man, figuring out how to ship a car to Europe is quite a headache.  We're *almost* at the end of the process because we're driving our car to the Charleston Port on Friday to send it on its way.
And, the car also has country restrictions.  In general, tourists are allowed to ship a car and keep them in the European Union for 6 months without paying any taxes or duties, as long as you do not plan to dispose of the car in the EU.  In order for us to keep the car in the EU for 13 months, I had to make a special request to the government.  (Lots more info on all of this later, I promise, once we have everything finalized.)
Occasionally, we are going to need to use ferries, such as when we travel from England to Spain, so I have also spent a great deal of time researching the pet-friendly ferry options.  Some are truly awful and one requires your dog to stay in the car for 7-8 hours at a time, while others are really pet-friendly such as the one we're taking that even has pet-friendly cabins.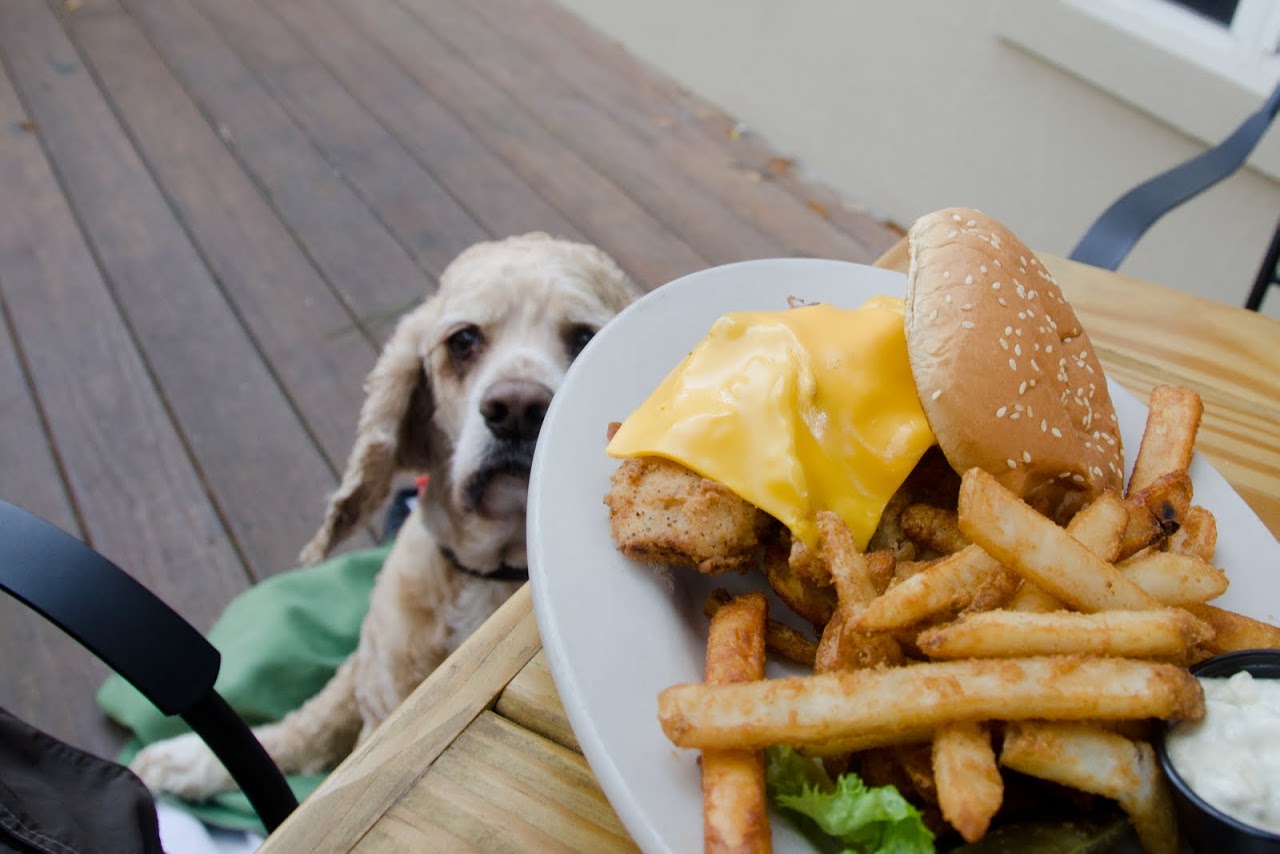 Not for Chewy
Pet Food
Chewy has a tendency to get a bit chubby so about three years ago, we switched him to a high-protein, no-grain diet, with the pet food Wellness CORE.  Wellness CORE worked wonders for Chewy --- in a year, he was down from a hefty 51 pounds to a sleek 38.  His reduced weight has improved his arthritis and degenerative joint disease and most people are surprised to hear that he's ten years old because he romps about like he's half that age.  (Knock on wood.)
But, Wellness CORE is not sold in Europe.  Darn.  Originally, we considered just bringing several large bags of it from the U.S. to the EU and storing it in a cargo top container, but England has strict restrictions on the amount of meat products, including dog food, that can enter the country.  An individual may only bring 2 kg of any meat product into the country, so that option was out.
Then, we started researching alternatives and found Orijen, another natural foods brand that is high-protein and no-grain.  Unfortunately, Orijen does not have a weight-maintenance variety but we're hoping that the weight will stay off with it.  It looks like Orijen is widely available in all of the countries that we'll be traveling in.
(And, if you're wondering about Abby, Abby likes us to change her food brand every month, so I have a feeling that she will be ecstatic with all the new options in Europe.)
Pet-friendly Accommodation
I've been stalking HomeAway , Homelidays , and VRBO for the last month to find accommodations that meet all of our requirements.  When Patrick and I travel by ourselves, we require that our accommodation be:
clean
in a safe area
and with fast WiFi
For Europe, we want places that:
accept two medium-sized dogs (not an easy condition to find)
have a small garden/yard or is located near a park
is on the ground floor (or has a lift)
is in a convenient and safe location so we can return during the day and check on them
is clean
has good WiFi (though we're willing to let this one go and use our MiFi instead)
has a garage or nearby place where we can park our car
As you can imagine, it's been harder to find places to stay in Europe.  And, though many hotels and vacation rentals are pet-friendly, we don't feel that we can just arrive in a town and hope to find a pet-friendly motel.  (In the U.S., it's a bit easier because certain chains such as Holiday Inn and Red Roof Inn are all pet-friendly.  Some of the expensive chains in Europe always accept pets but there is usually a small dog size limitation which doesn't work for us.)
BUT . . . .
I keep telling myself that despite all of these annoyances, complications, and hassles, it is all going to be worth it to see Europe with our babies.  54 days before we head to England!