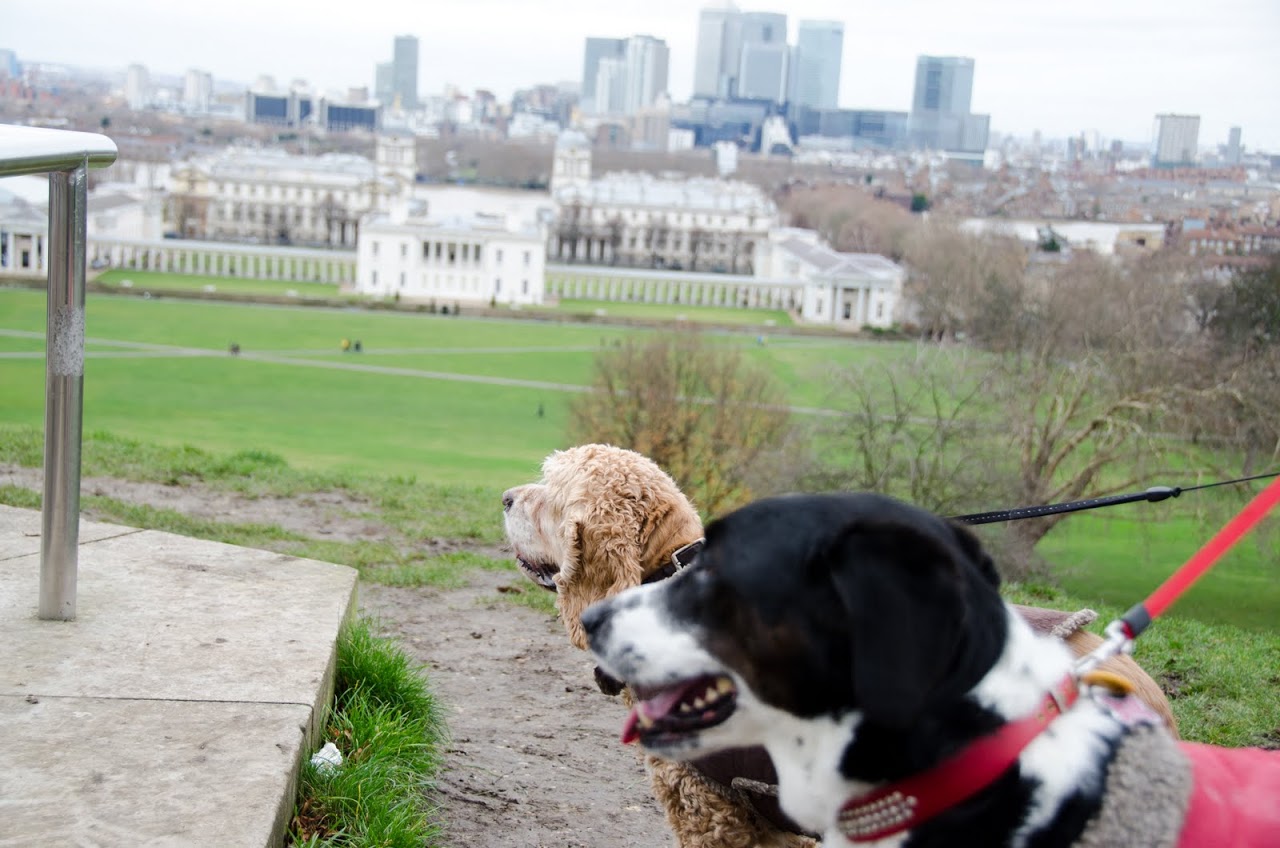 Abby and Chewy with the London skyline
The new year has come and gone and we are still traveling with Chewy and Abby.  This week, we were getting organized to take them with us to Eastern Europe and we realized that the dogs have way more than we do.  In particular, we are carrying a lot of dog food and dog treats --- around 400 pounds of dog food and 50 pounds of dog treats.  A little ridiculous, right?
Of course, we could buy Pedigree dog food in Croatia and Turkey because it seems to be a universally available brand.  But, we prefer to feed Chewy and Abby the super-premium Orijen brand food for a few reasons: (1) Abby is an extremely picky eater and will refuse food for days on end if it isn't a brand she likes (yes, I know that we probably shouldn't tolerate this behavior but she's been like this since she was a puppy); (2) Chewy stays on the slim side which is good for his arthritis when we feed him a high protein, low carbohydrate food; and (3) their skin and fur are so soft and silky since we switched over to Orijen.  Now, there's a lot of debate as to whether ultra-premium foods are worth the cost (and, in our case, hassle) but we're trying our best to stick to feeding them Orijen throughout the year.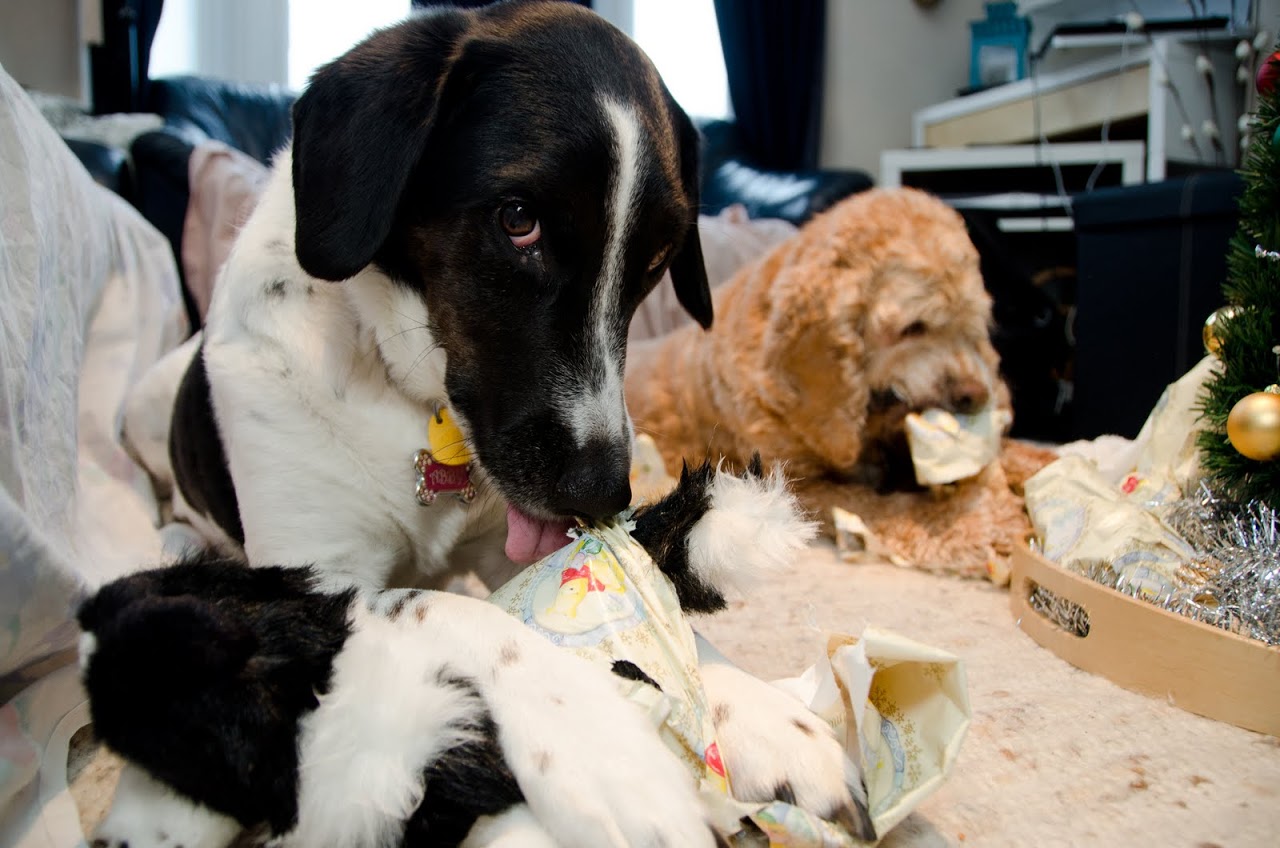 Chewy and Abby tearing up their Christmas presents
In the United States and Europe, we can find Orijen pretty easily in large cities such as Atlanta, London, and Rome.  But, it can be a hassle trying to find stores that stock it which is why we almost always purchase their dog food online .
Frankly, I think online pet food stores are one of the best inventions on the internet.  Instead of lugging heavy bags of food from the store into the car into the house, when we use an online pet store, the food arrives neatly packaged on our front doorstep, usually at less cost we would have paid at the store.
In Europe, we use the fantastic Zooplus .  I love this company.  They offer free shipping in England and several other countries, including France and Italy, through affiliate sites.  They ship to 14 countries in Europe, don't require an English bank account because you can pay with an ordinary credit card, and the food and treats are substantially cheaper than those we find in the store.  For example, we can buy a Super Saver Pack of Rocco's Chings Chicken treats (Abby's favorites) for about a quarter of the price that we found in Pets at Home (the UK equivalent of Petsmart/Petsupermarket).  The food always arrives promptly and within a week and we have been incredibly happy in using Zooplus.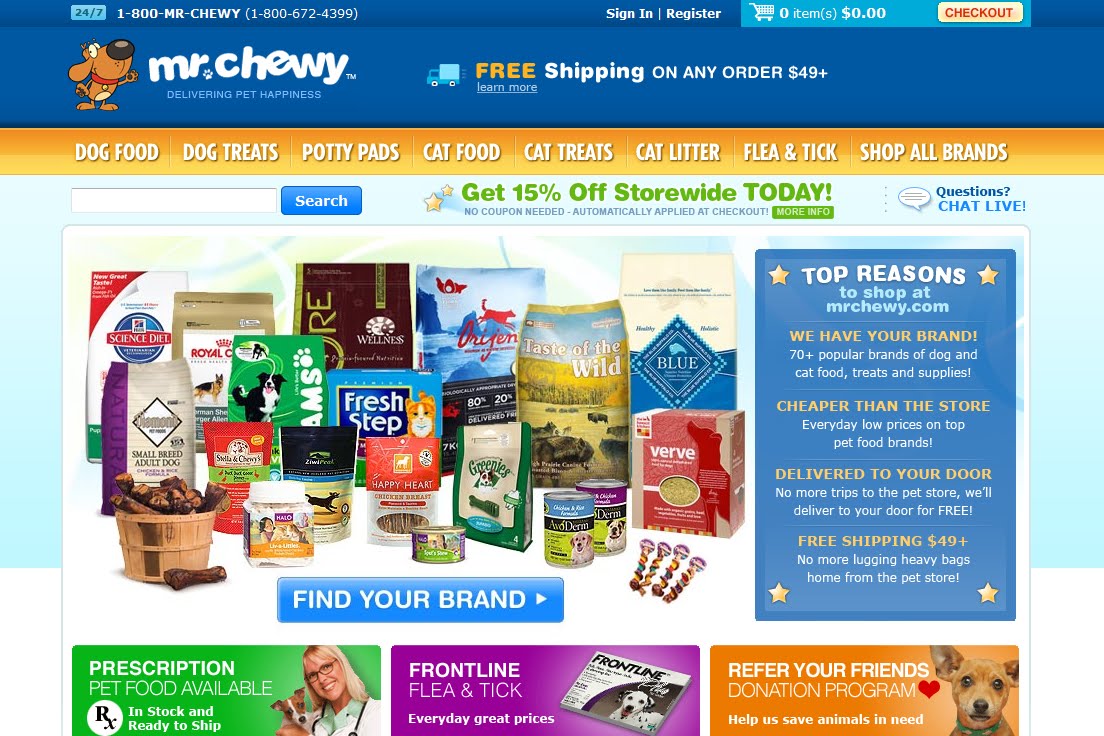 In the United States, a new company called Mr. Chewy has adopted the Zappos model --- free shipping on orders above $49 in the United States, 365 day returns, and online customer service.  First and foremost, I LOVE Mr. Chewy's name --- but, then again, that could be because it reminds me of my Chewy!  Their site is very easy to navigate and they offer the best selection of premium dog food I've seen on the Internet, including hard-to-find brands like Orijen, Stella & Chewy, Merrick's Before Grain, and The Honest Kitchen.  Patrick and I totally want to order this Kobe Master Beef Canned Dog food that we found on Mr. Chewy's site!  Of course, they also have Pedigree and Science Diet and every other brand that you can think of so no matter your budget, Mr. Chewy has something for your dog.  And, if you're still not convinced, head over to their Facebook page where people are RAVING about how much money Mr. Chewy saves them each year.
And . . . I'm giving away a $50 gift certificate to Mr. Chewy !
All you have to do is head over to Mr. Chewy , look through their site, and leave a comment in the Rafflecopter letting me know what you would order with your $50.  You can get additional entries by tweeting this contest and liking this blog post or liking us on Facebook.  (This is my first time using Rafflecopter so hopefully this will work out well.)
a Rafflecopter giveaway