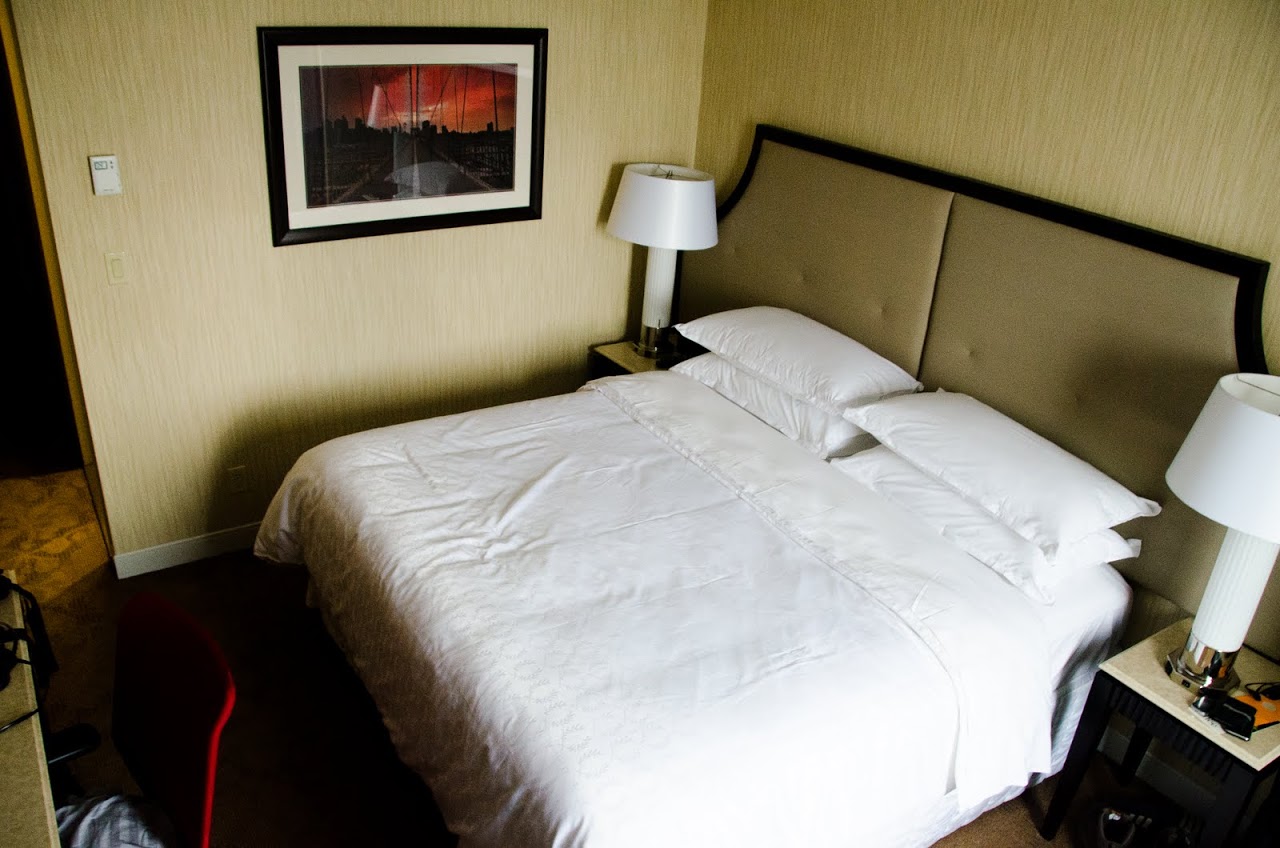 Our room at the Sheraton Brooklyn
Finding a reasonably priced pet-friendly hotel in New York is a challenge.  Sure, there are plenty of pet-friendly hotels lining Central Park but we didn't feel inclined to break the bank for a three-night stay at the Loew's Fifth Avenue or Four Seasons.  We looked for our usual cheap pet-friendly standbys--- Red Roof Inn or Best Western --- but the Best Western was around $200/night and Red Roof Inn Manhattan does not allow pets.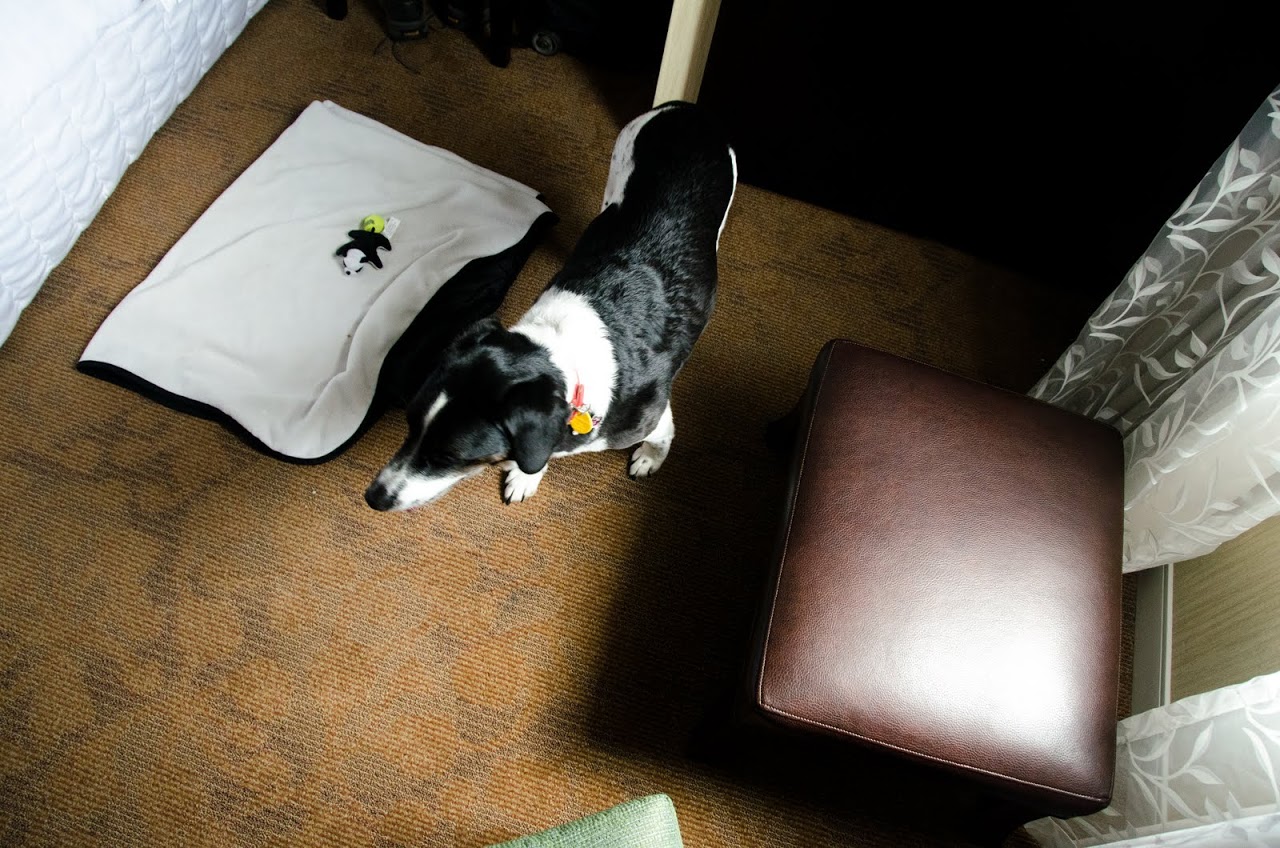 Abby in our room
I found the Sheraton Brooklyn using BringFido.com and booked on their site at a web rate of $145/night for a Club Room, which included breakfast, afternoon cocktails, and unlimited drinks (which probably made up the extra difference in price for us).  Regular rooms ran at $125/night, which is an absolute steal in New York.  The hotel opened in April 2011 and its sister hotel, the Aloft Brooklyn is also pet-friendly and right next door.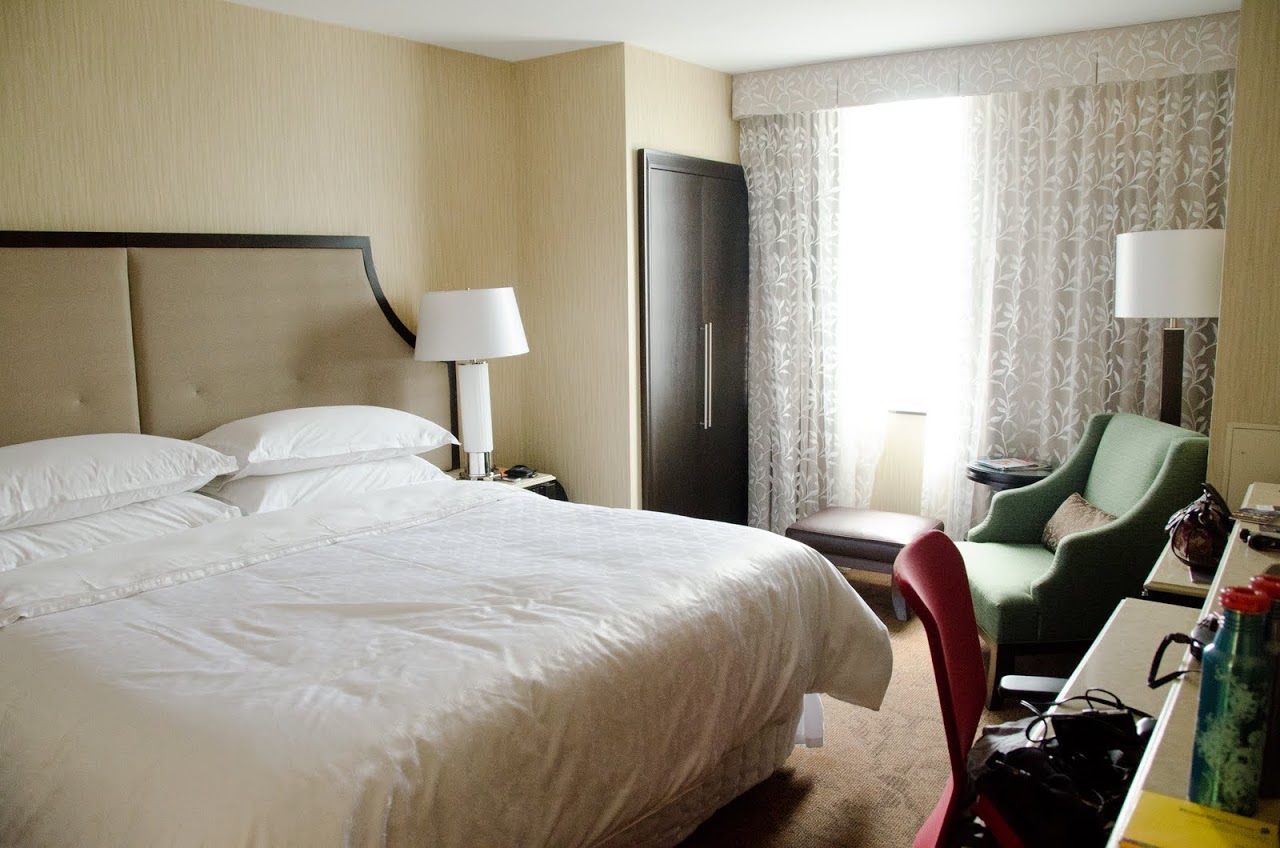 Our room

We loved the hotel.  Our room was quite spacious, especially given New York space limitations, with a king-sized bed, a small closet, a big desk/armoire area, and a huge bathroom.  We especially appreciated that the room had a small hallway in it, which we used to keep the dogs' water and food bowls.  The rooms have excellent sound-proofing and we never heard our neighbors throughout our stay, which is important when staying at a hotel with our dogs, because they tend to bark if they hear lots of noise.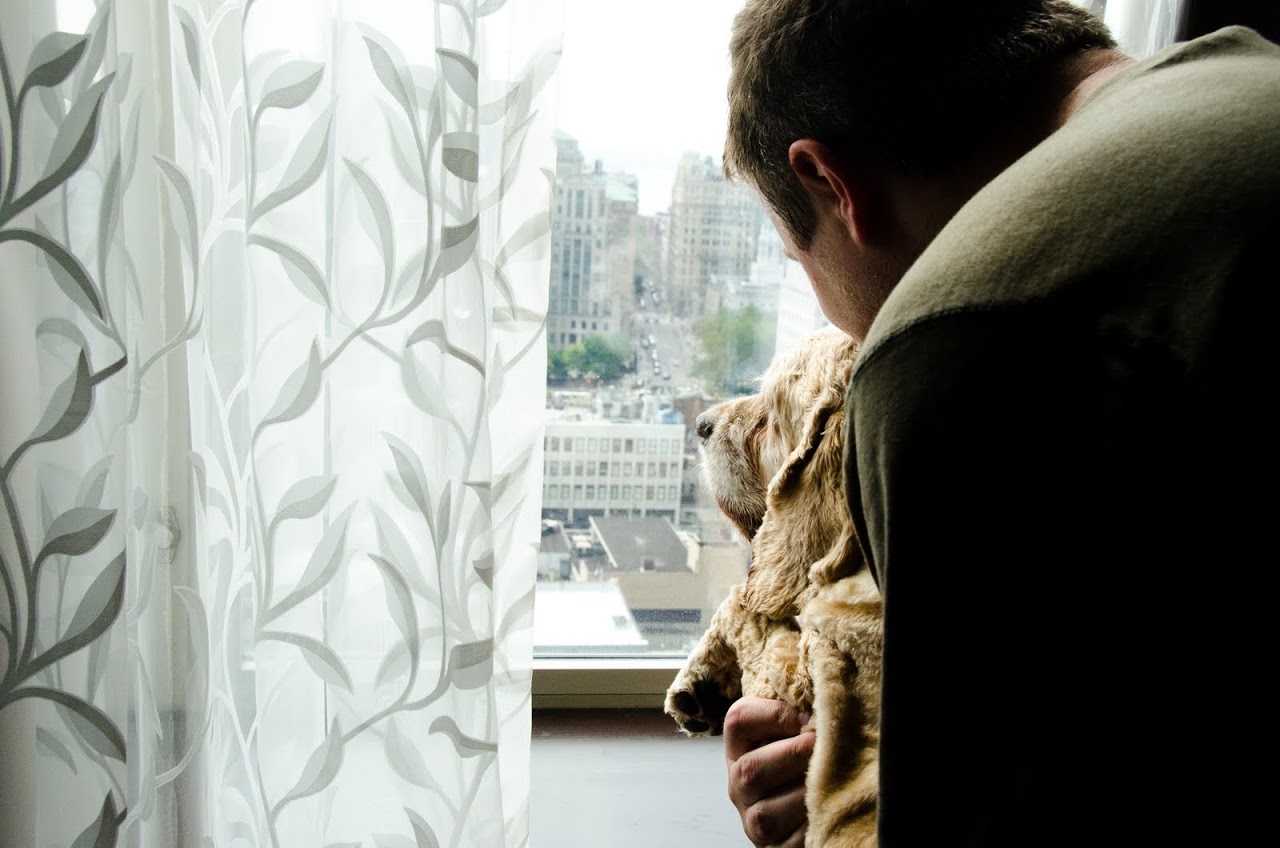 Chewy looking at the Statue of Liberty from our window
Best of all, we had a fantastic view of the Manhattan skyline, the Brooklyn cruise terminal, and the Statue of Liberty.  We woke up on our last day at the hotel to see the Queen Mary 2 (our cruise ship) docked at the terminal.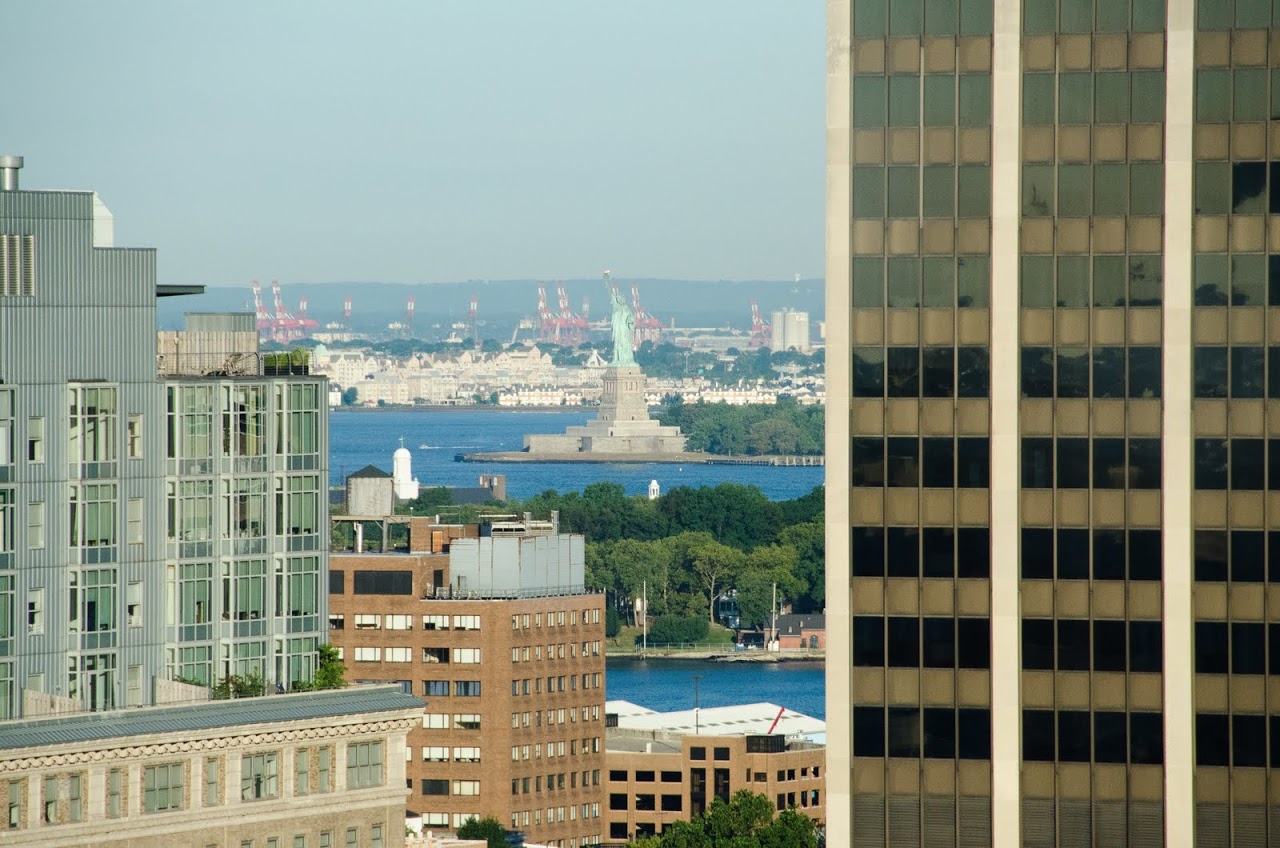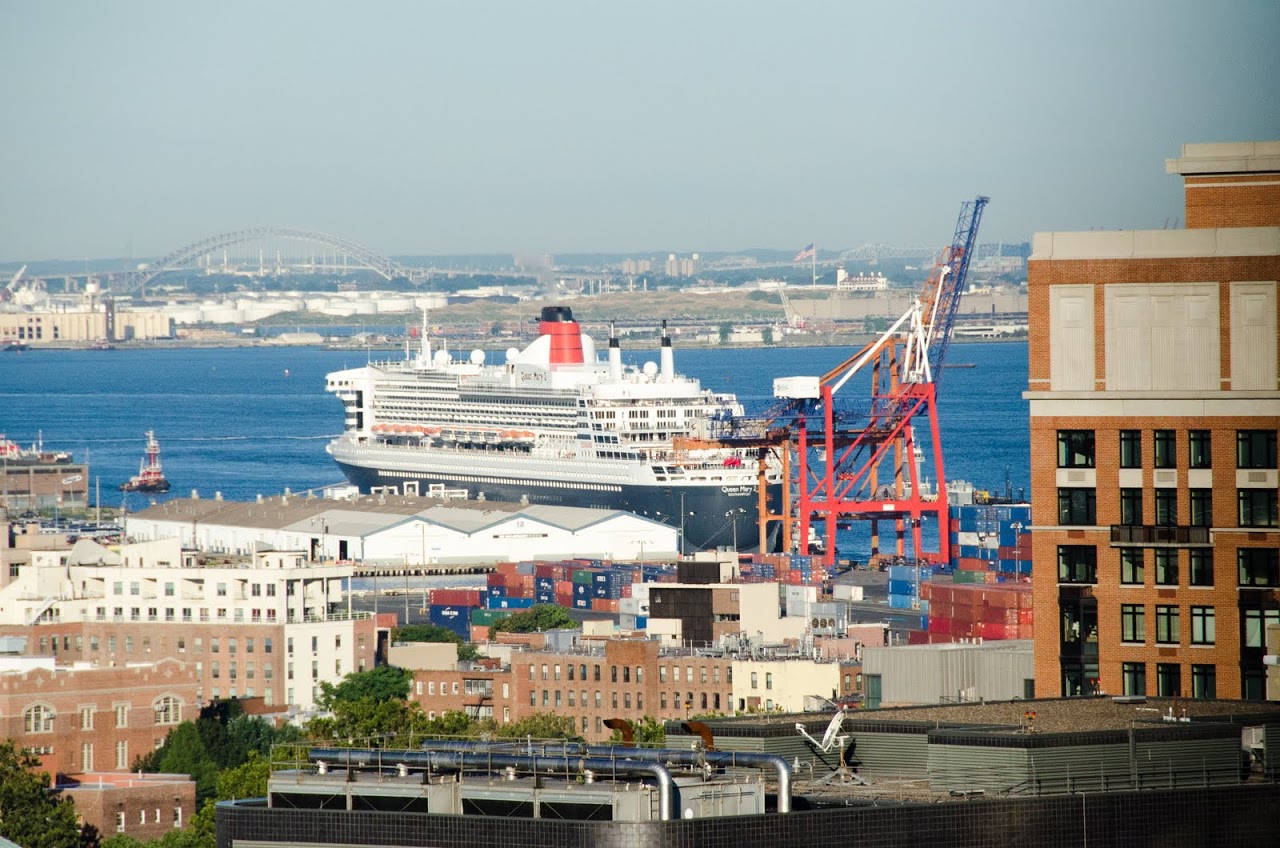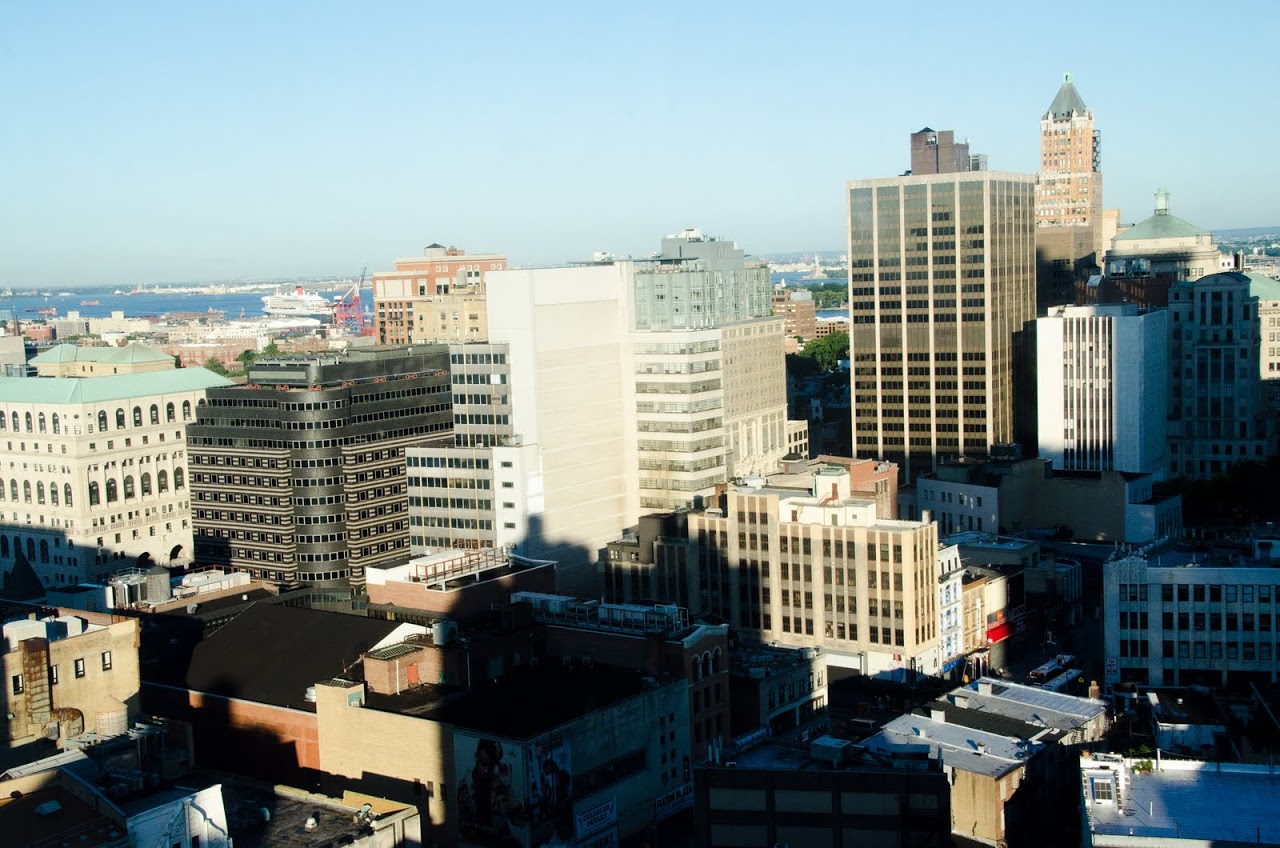 Views through our window (I swear!) of the Statue of Liberty, Brooklyn, and the cruise terminal

The front desk was very kind toward our dogs and the manager even saw us on the elevator one time and spent quite a while discussing pet-friendly areas around the hotel.  When we checked in, they gave us a "Let Sleeping Dogs Lie" tag to place on our door so that housekeeping would not disturb the dogs when we were out of the room.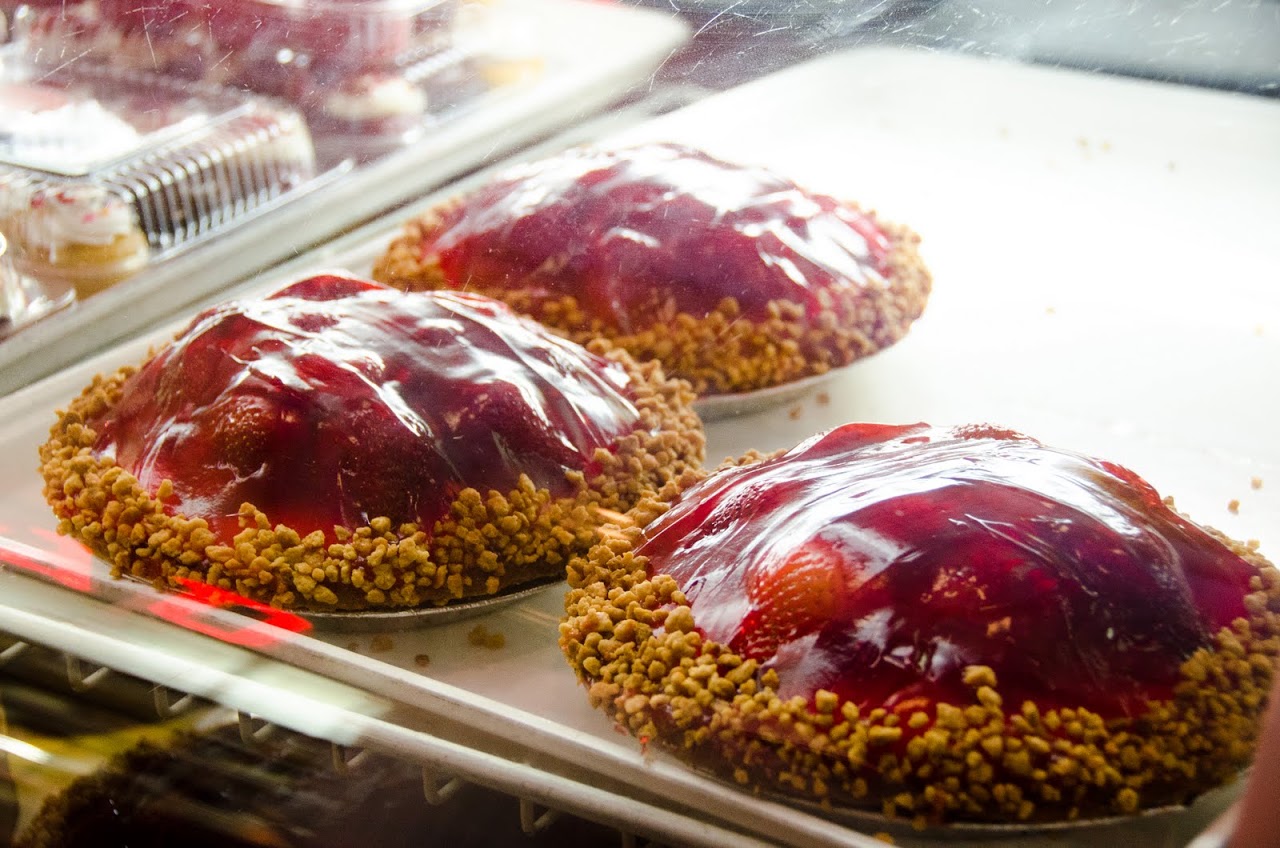 Junior's famous cheesecakes
The only negative part of the hotel is its location in downtown Brooklyn, which doesn't have many restaurants or green space.  Prospect Park is about 4 miles away and Fort Greene Park is a 20 minute walk from the hotel.  Fortunately, there is a large open area with some grass at the MetroTech Center two blocks away from the hotel.  We usually took the dogs to the small park area two blocks away for short walks and then drove out to Prospect Park or Fort Greene Park for longer walks.  We usually had dinner in the Fort Greene area, which was about a fifteen to twenty minute walk away. Junior's, famous for its New York cheesecake, is one block from the hotel so we did indulge in cheesecake on several nights.

Because the hotel was not that close to any of the big parks, we found a car to be essential.  Unlike Manhattan, taxis are not frequently available and car services charge an extra $15 per ride if you take dogs, meaning that a taxi ride from the hotel to Prospect Park cost us around $30 one way.  In addition, the subway shuts down in the afternoons on weekends, meaning that we had a really difficult time getting around Brooklyn until we rented a car.  We rented one from Hertz (which allows pets in cars) for $50/day and used that throughout our stay.  Parking at the Sheraton cost around $20/day, and the lot is just around the corner from the hotel.

All in all, we highly recommend the Sheraton Brooklyn as a reasonably-priced pet-friendly New York hotel option and were very pleased with our stay.
Details
Sheraton Brooklyn New York Hotel
228 Duffield Street
Brooklyn, New York 11201
(718) 855-1900