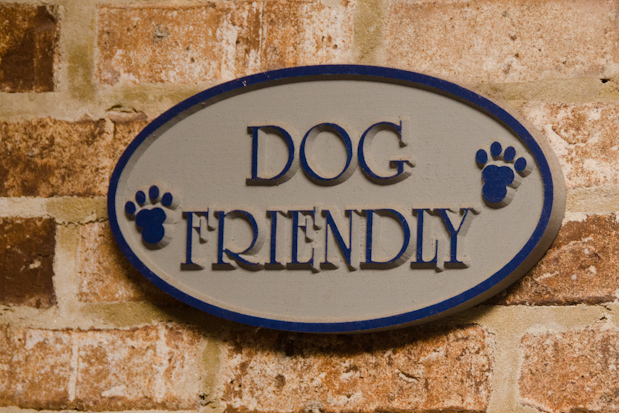 Dog friendly patio at Bistro 17
Hilton Head is meant for dog lovers.  What with their gorgeous pet-friendly beaches and nice dog parks, we weren't surprised to find that many restaurants are also pet friendly.  We ate at three that are worth mentioning:
Our Favorite: Black Marlin Bayside Grill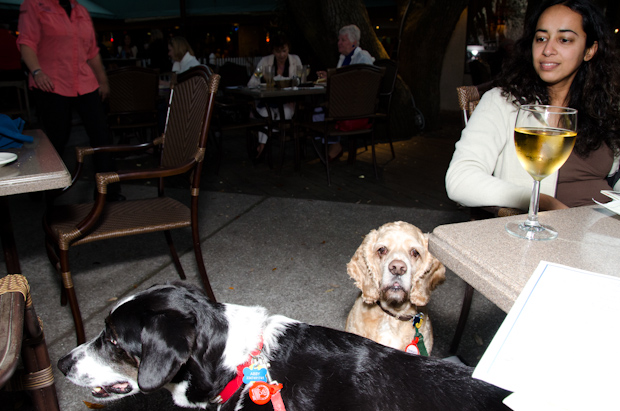 Black Marlin Bayside Grill
The word "patio" does not even begin to describe the vast outdoor space with tiki bar and tables facing the water that is the patio at Black Marlin Bayside Grill .  Most of the restaurant patrons were outside, either at the bar or the tables, enjoying the weather under the shaded trees.  (Keep in mind that sand flies and june bugs are common in Hilton Head; we wished we  had put on bug spray before leaving the hotel.)  The bar and restaurant were obviously pet friendly as there were several other dogs at Black Marlin, from a tiny chihuahua to a tall Weimaraner.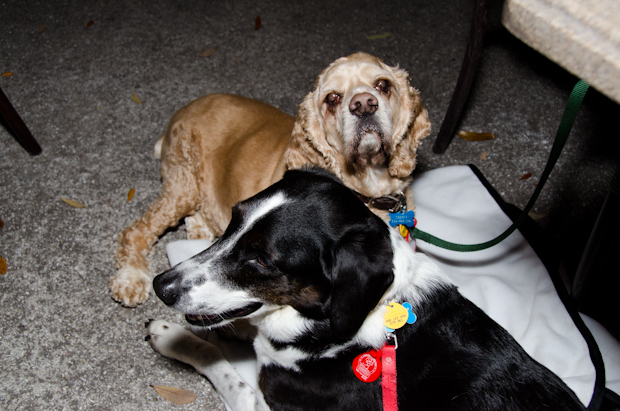 Chewy and Abby relaxing at Black Marlin Bayside
Service was, in a word, fantastic.  We never waited for water or our food and I think every waitress at the restaurant stopped by to pet Chewy and Abby.  They brought out a water bowl for the dogs and a small bowl with Milkbone treats.
| | |
| --- | --- |
| | |
| | |
Our meal at Black Marlin Bayside Grill
We shared gooey panko crusted fried mozzarella, which was better than the usual version because the panko added a thick crispy crust.  Patrick had the grilled local tilefish, with a dungeness crab and avocado salsa, doused in a spicy chile sauce, with a creamy yucca puree and crisp Mexican style corn on the cob.  I had the Primavera Pasta with shitake mushrooms, snow peas, spinach, sundried tomatoes, and goat cheese tossed with angel hair pasta.  Everything was delicious and it was, without a doubt, our best meal in Hilton Head.  It is a bit on the pricey side . . . but, frankly, everything in Hilton Head is expensive so don't go there unless you're willing to shell out a bit of money.
The Cheap Option: Main Street Cafe & Pub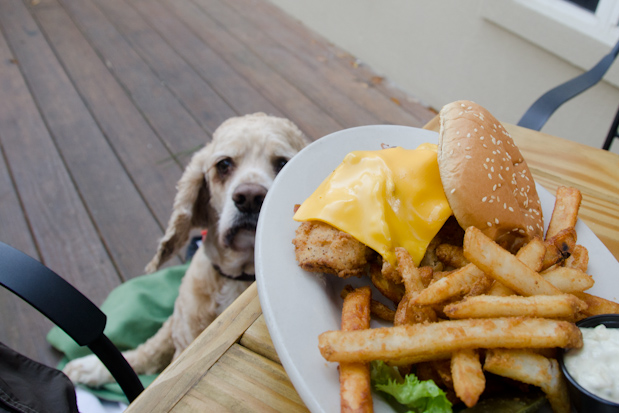 Chewy eyeing a sandwich at Main Street Cafe & Pub
Main Street Cafe & Pub is fine.  Just that.  It's not bad by any means but rather a fairly standard cafe with decent food, a decent patio, and nothing particularly exceptional.
Seating at Main Street Cafe
The patio area overlooks the parking lot of a grocery store so the views are, understandably, uninteresting but, the space is quite large with ample space for our dogs to settle down.
Seafood chowder and fried green tomato sandwich
The Disappointment: Bistro 17
Patrick had their "famous" seafood chowder and the fried tilapia melt and I had the fried green sandwich.  Meh.  They were fine but nothing to write home about.  On the plus side, the pricing was quite good, especially compared to many of the price-gouging restaurants in Hilton Head.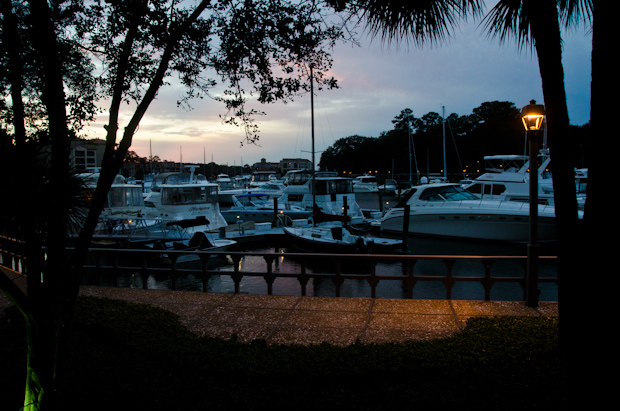 View from Bistro 17 Patio
My first reaction to Bistro 17 was Wow.  I have rarely come across a more stunning patio.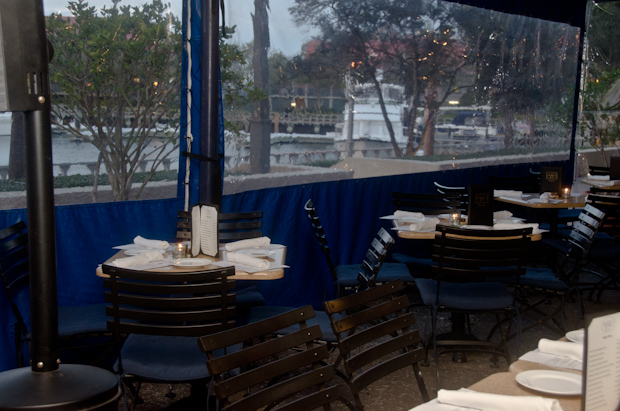 Bistro 17 Patio
Set directly on the water, overlooking yachts and power jets, the Bistro 17 patio is enclosed and heated in the winter, and opened up in the summer.  A "Dog Friendly" plaque greets visitors at the patio and when we sat down, the waitress brought Chewy and Abby water and treats in hand-painted ceramic bowls.
| | |
| --- | --- |
| | |
| | |
Dog bowl, dog menu, special beef and rice meal, and Chewy eating it
It got better, though.  I knew beforehand that Bistro 17 offers a special "Puppy Menu" which I requested (actually, the waitress seemed surprised I asked for it), and ordered Chewy a Beef and Rice meal and Abby a Turkey and Rice meal.  The meals are prepared by Lucky Dog Cuisine, a local purveyor of fresh high quality dog food, and their meals are served in several other restaurants in Hilton Head, as well.  Chewy and Abby gave four enthusiastic paws up to the meals.
Our meal at Bistro 17
Unfortunately, we were not as impressed with our selections.  Of the three items we ordered, the only one we enjoyed was the brie en croute with a berry sauce.  My spinach crepes were ordered from the lunch menu because they did not have any dinner vegetarian selections.  Cheese clogged the crepes and the spinach was barely presented in the dish.  Patrick's steak en croute was very thin and overdone, and the truffle fries didn't have any passing resemblance to truffles.
It's really too bad because this restaurant has excellent potential in pet-friendly Hilton Head.  We hope they continue to work on improving their people food so it matches the service and food given to our pups.
Details:
Black Marlin Bayside Grill
Located dockside at Palmetto Bay Marina
86 Helmsman Way, Suite 103
Hilton Head Island, SC 29928
843-785-4950
Main Street Cafe & Pub
1411 Main Street
Hilton Head Island, SC 29926
843-689-3999
Bistro 17
17D Harbourside Lane
Shelter Cove Marina
Hilton Head Island, SC 29928
843-785-5517