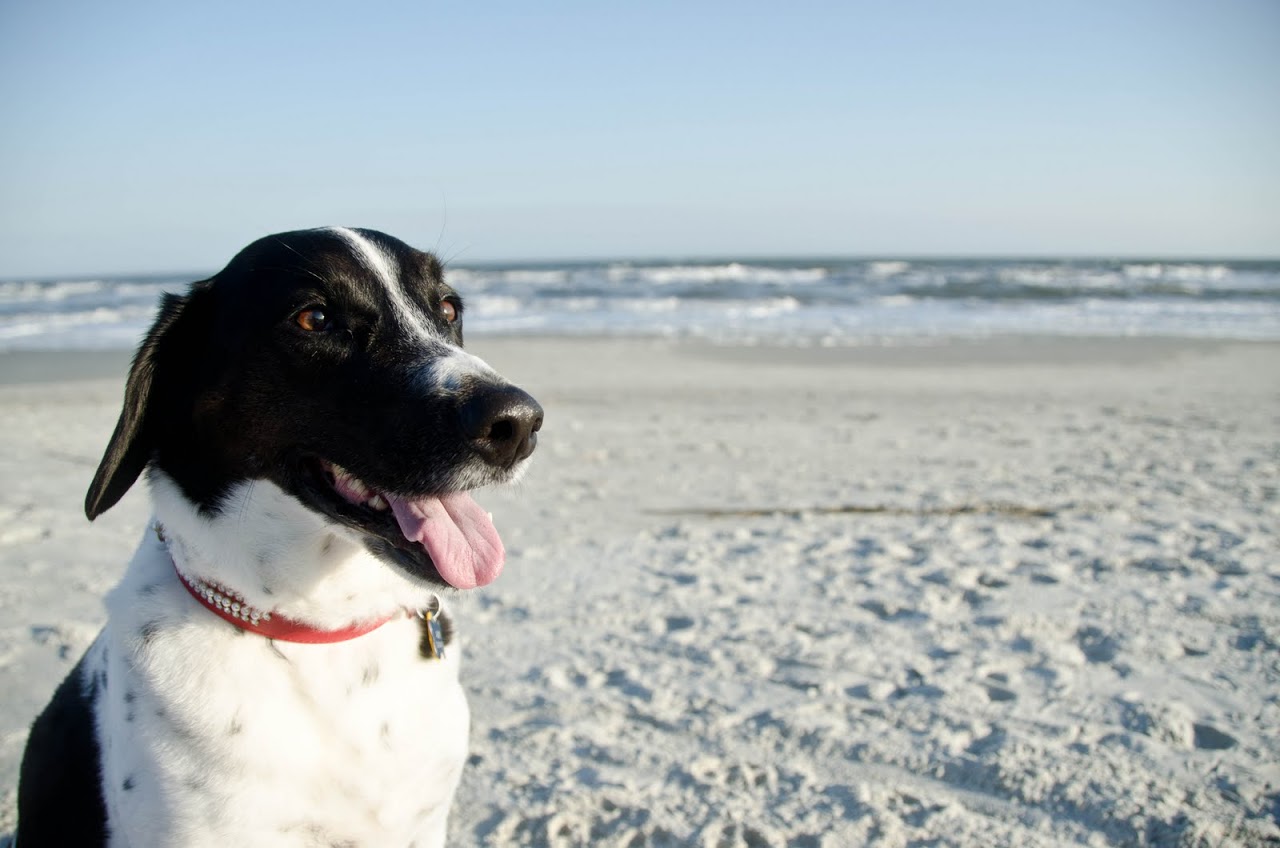 Abby at Hilton Head beach
I can't think of anything happier than a dog on a beach.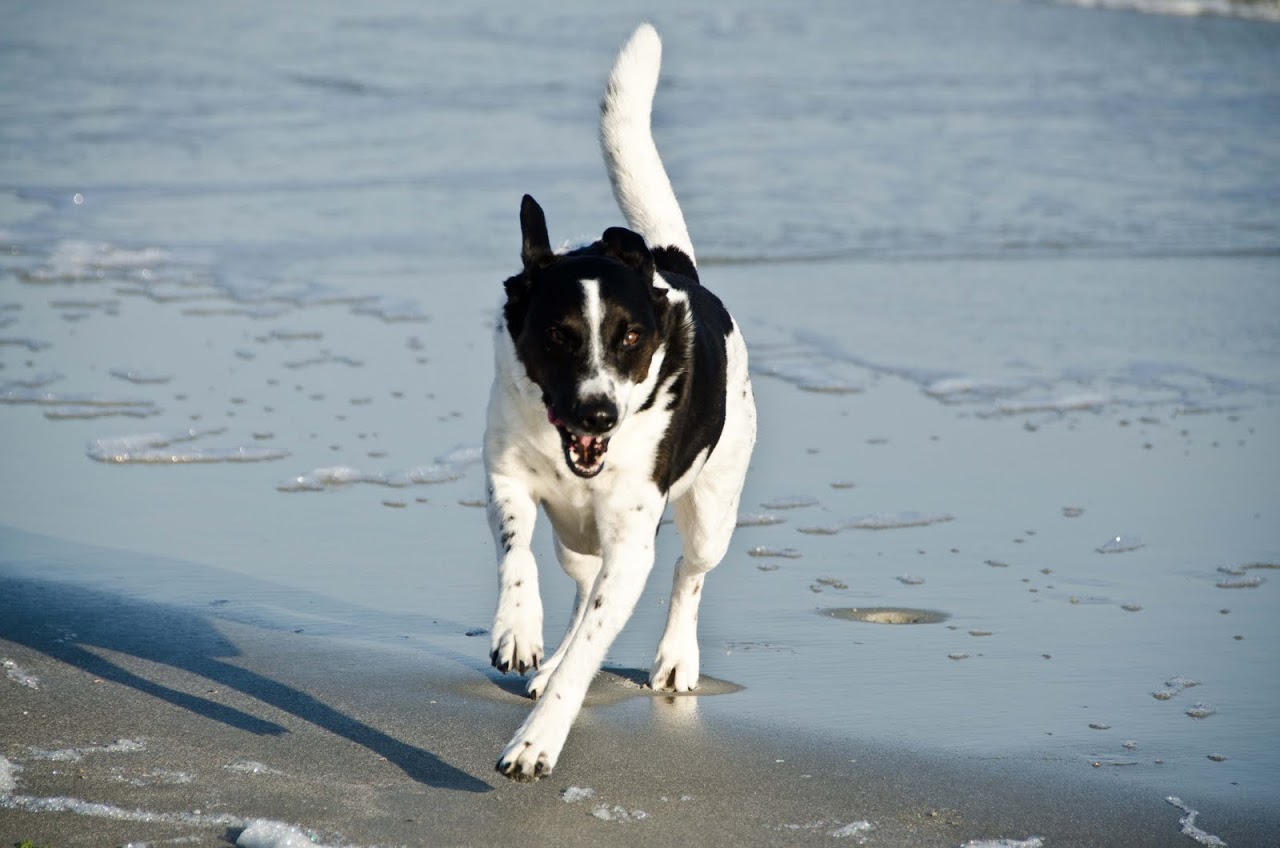 Abby running at Hilton Head
The wind is in the air, the dog prances and pounces about, ears flapping, tongue lolling, and the dog jumps into the water that washes against the shore.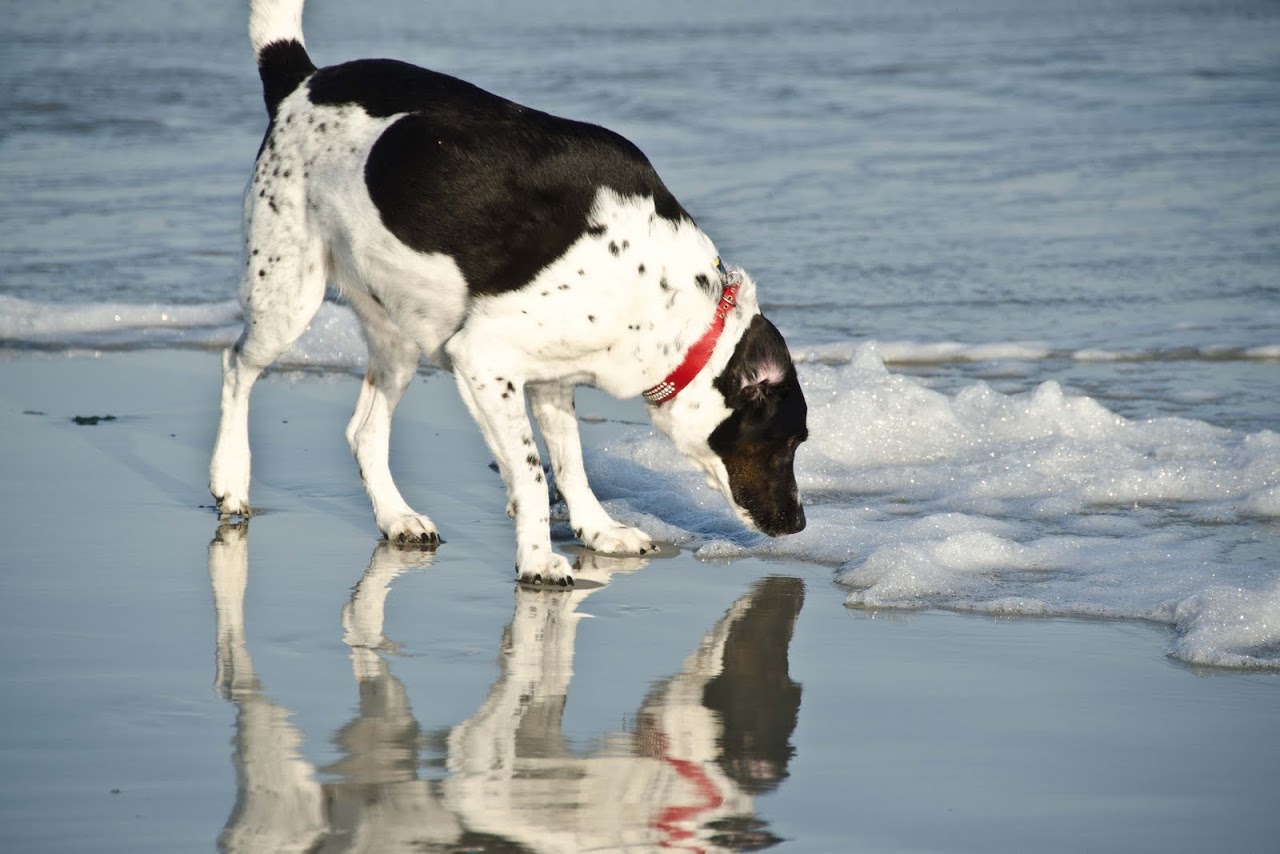 Abby staring at her reflection
Unfortunately, most beaches don't allow dogs, as those of you who have watched Marley and Me know, so we were excited to learn that Hilton Head allows dogs on its beaches for most of the year.
Playing at the beach
The rules are as follows:
From October 1 to March 31, dogs are allowed off-leash, under voice control.
From April 1 to the Friday before Memorial Day, dogs are allowed on-leash between 10 a.m. to 5 p.m. and off-leash the rest of the time.
Dogs are NOT allowed on the beach from the Friday before Memorial Day until the Monday after Labor Day.
From the Tuesday after Labor to October 1, dogs are allowed on-leash between 10 a.m. to 5 p.m. and off-leash the rest of the time.
Check here for updated rules.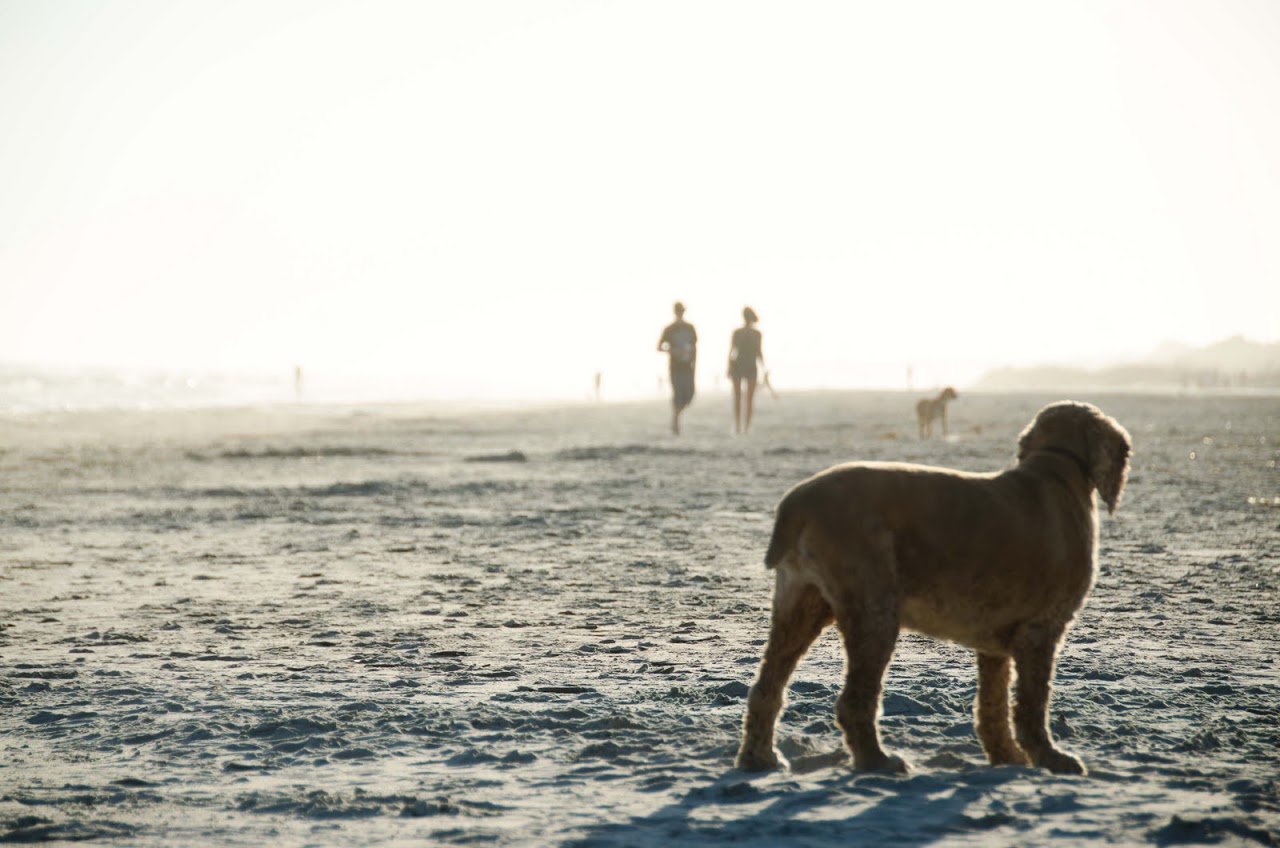 Chewy watching other dog walkers
We parked at the Coligny Beach Circle in the center of the Hilton Head beaches and walked through a nice park area with outside seating to the beaches.  As soon as we were on the beach, we took the dogs off leash and let them run.
More views of the beach, Abby hesitantly walking into the waters, and Chewy digging through the bag for snacks
They loved, loved, loved the beaches there and so did we.  The Hilton Head beaches are soft and pleasant to walk in and when we were there (in early March), there weren't too many crowds and plenty of dogs meandering about.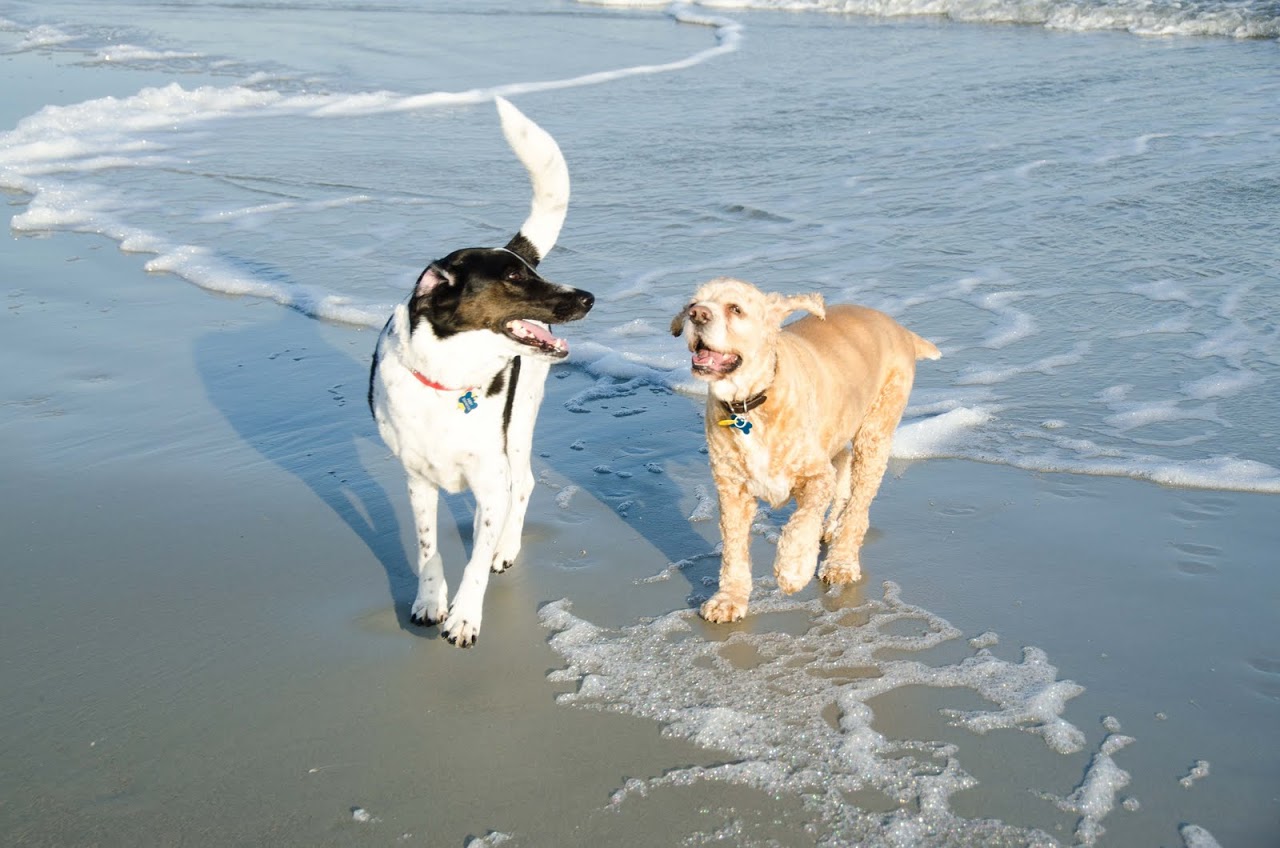 Two happy dogs
Suffice it to say, that Chewy and Abby gave Hilton Head's beaches two very enthusiastic tails up.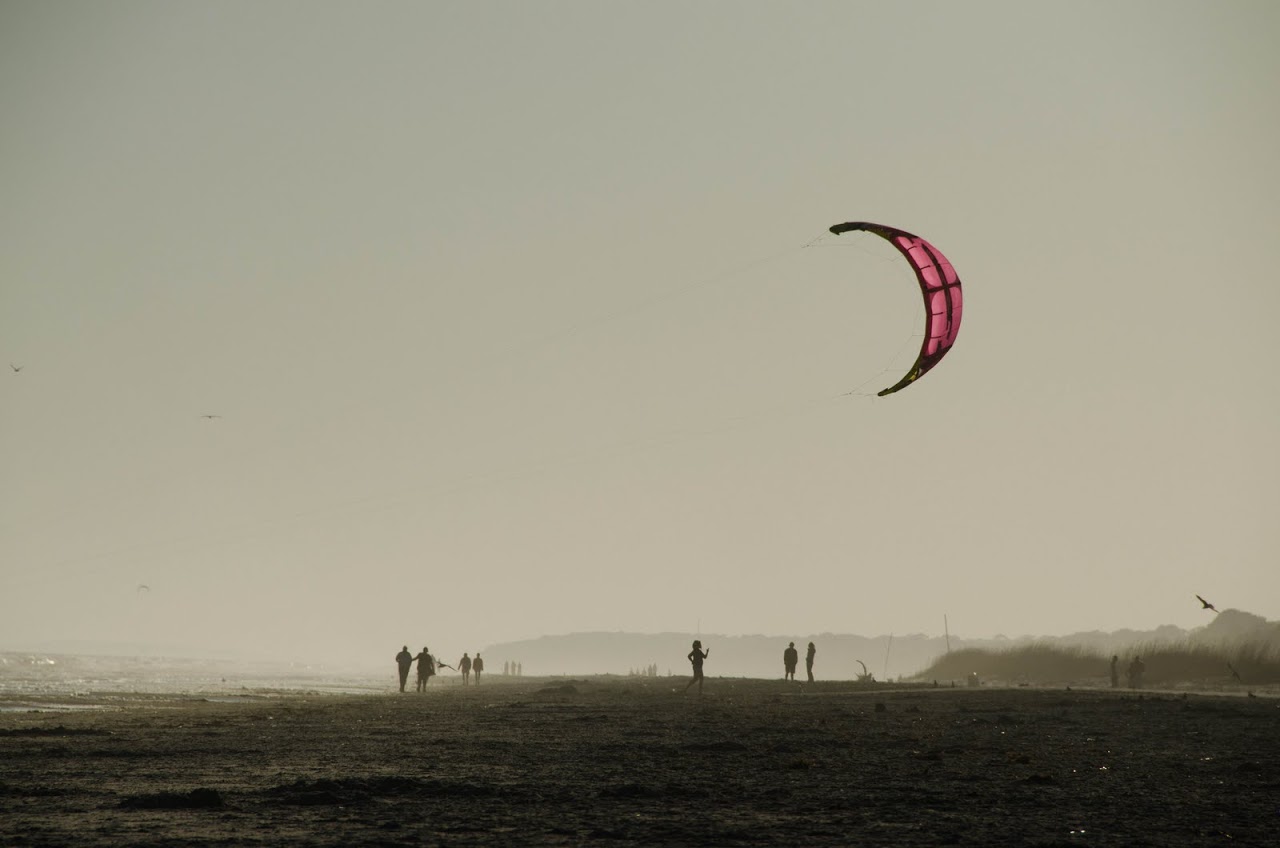 Kite fliers at Hilton Head
Details
Be forewarned that Hilton Head is an expensive vacation destination and it was tough to find restaurants under the $20/entree price tag.  I'll give a run-down of Hilton Head pet-friendly restaurants next.
We stayed at the Red Roof Inn in Hilton Head at 5 Regency Parkway, Hilton Head, in their "All-Inclusive King Room."  It was clean, cheap (at $55/night), and in a convenient location.  The All-Inclusive King Room is on the second floor and has a desk area which Patrick used to set up his computer to work.  The exterior grounds had plenty of grass for us to walk our dogs and other than our bathroom smelling like dog pee, we didn't have any problems with the room.  All Red Roof Inns allow pets without any charge (yay!).  We recommend it as a good pet-friendly option for Hilton Head, especially because most other hotels are quite expensive.