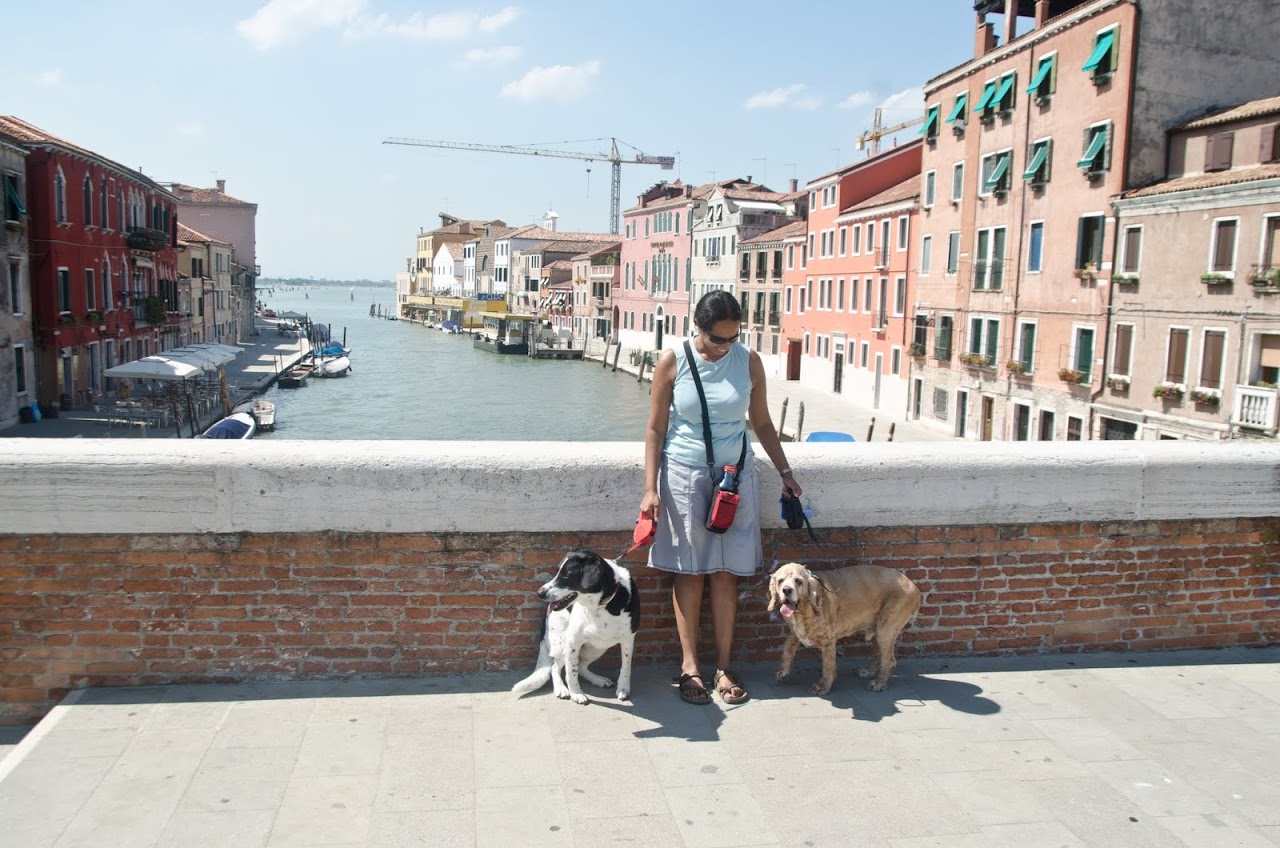 Chewy, Abby, and me in Venice
We were told that Venice is one of the world's great pet-friendly cities because there are no cars.  Indeed, pets are everywhere in Venice, though it's primarily a small dog city.  We did a good bit of exploring with Chewy and Abby and we think they really enjoyed their time in the city of canals.
If you want a quick overview of our stay in Venice, check out this short video highlighting our trip with the pups in this beautiful city.
Train and parking lot
Arriving in Venice With Pets
Because cars are not allowed in Venice, there are only three main ways to bring pets into Venice:
(1) Park outside the city or in one of the city's parking lots and take the vaporetto (sea boat) or train
(2) Train into the city
(3) Fly into Venice and take a vaporetto (sea boat) or train
There are three main parking lots in Venice:
(a) Piazzale Roma: On the island of Venice, within a 10 minute walk to the Santa Lucia train station and vaporetto stop
(b) Tronchetto: On a separate island and you can take the People Mover into the island
(c) Mestre: On the mainland and about a 15 minute train ride into Venice
We decided to park in Mestre and found it to be very convenient with the dogs.  We parked for about 8 Euros per day, walked across the street, bought a ticket for us (4 Euros each) and a ticket for each of the dogs (2 Euros each), and waited for the train to Santa Lucia.  The train leaves every 10 minutes and the ride only takes about 15 minutes into the Santa Lucia train station, where it is very simple to take the vaporetto (or sea bus) to other areas.
| | |
| --- | --- |
| | |
| | |
Getting on a vaporetto with dogs
Getting Around Venice With Dogs
Once in Venice, the best way to get around is to walk or take the vaporetto.  The vaporetto is a sea bus which allows dogs, though dogs must be muzzled on board the vaporetto.  We never took Chewy and Abby on the vaporettos because they tended to be VERY crowded and neither of our dogs do well in crowds, but we saw other folks taking their dogs aboard the sea bus.  If your dog worries about crowds, then I would suggest trying to take the vaporetto either early in the morning or the middle of the day when crowds tend to be less.  Dogs travel free on the vaporettos.
Armonia Apartment with Go With Oh
Armonia Apartment with Go With Oh
We loved our stay at the Armonia Apartment with Go With Oh and highly recommend it for anyone with pets.  The Armonia Apartment is pet-friendly, large, and with a small terrace area for the dogs to sit outside.  There is a bedroom upstairs and a nice living area with a pull-out sofa bed downstairs. The owner, Guido, was very welcoming and showed us around the area, including showing us to a secret park (see below) that we frequently visited with the dogs.  Best of all, the apartment is in a very quiet neighborhood so it was easy for us to escape the hustle and bustle of Venice in this idyllic spot.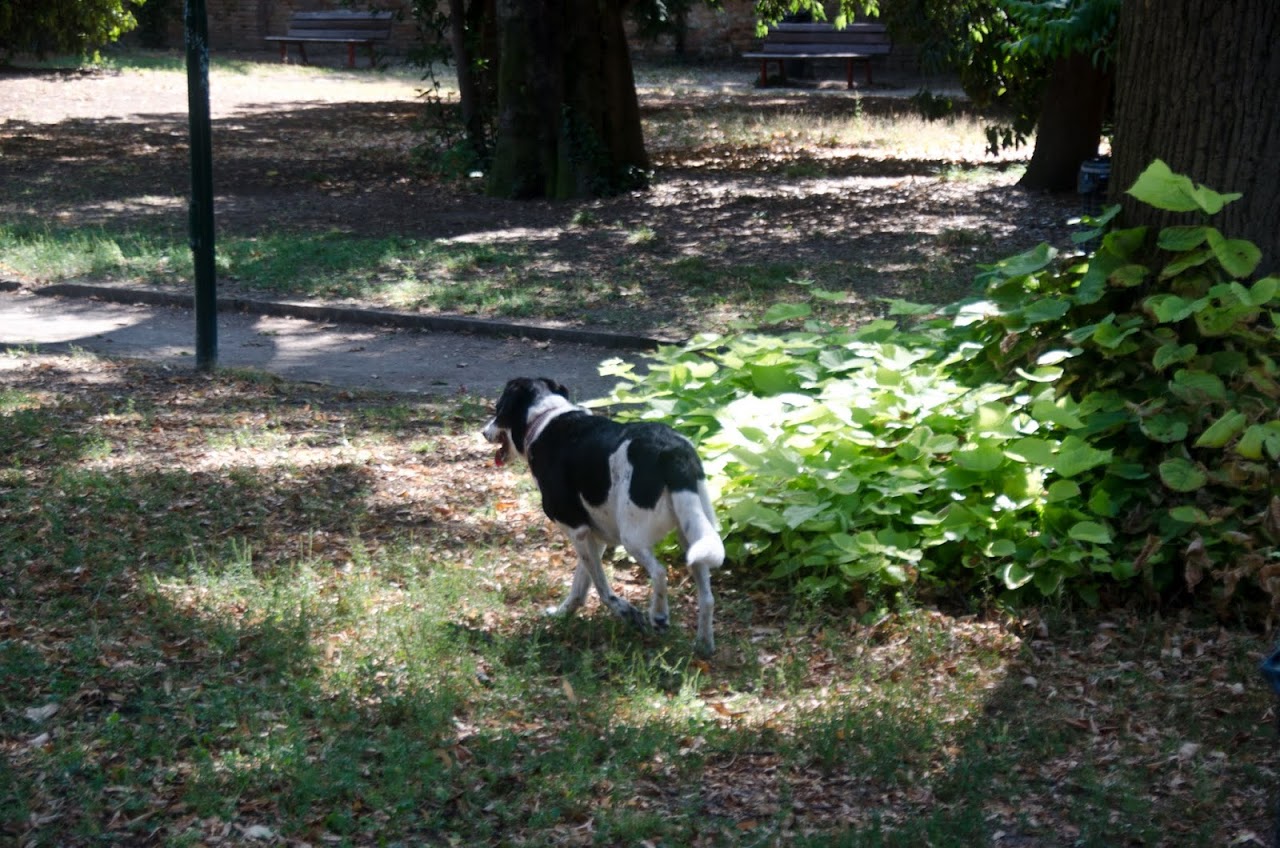 Abby in Venice
Parks in Venice
The other reason that we loved the Armonia apartment is its location in the Cannaregio district.  The Cannaregio district encompasses the Jewish ghetto and is also the greenest part of Venice.  The apartment is within a short ten minute walk to three different parks.
Chewy and Abby in Cannaregio
Because the Cannaregio area is also less touristy, it's easy to get away from the crowds and let the dogs off leash.  Chewy and Abby had a blast exploring the neighborhood!
All in all, though it is a pain to get into Venice, we found it to be much more pet-friendly than we expected it to be, especially since there aren't many green spaces.
* Go With Oh Venice sponsored our stay in Venice at the beautiful Armonia Apartment .  Aside from Venice, Go With Oh also has apartments in many other cities, including Barcelona .  Though Go With Oh doesn't have as large an inventory of pet-friendly accommodations as some of the other big vacation rental companies, we were very impressed with the quality of these houses and appreciated that almost all of their pet-friendly accommodations are within a short walk of a park or a green space.  We highly recommend their site for those visiting one of the Go With Oh cities.  As always, regardless of sponsorships, all opinions are ours and ours alone.