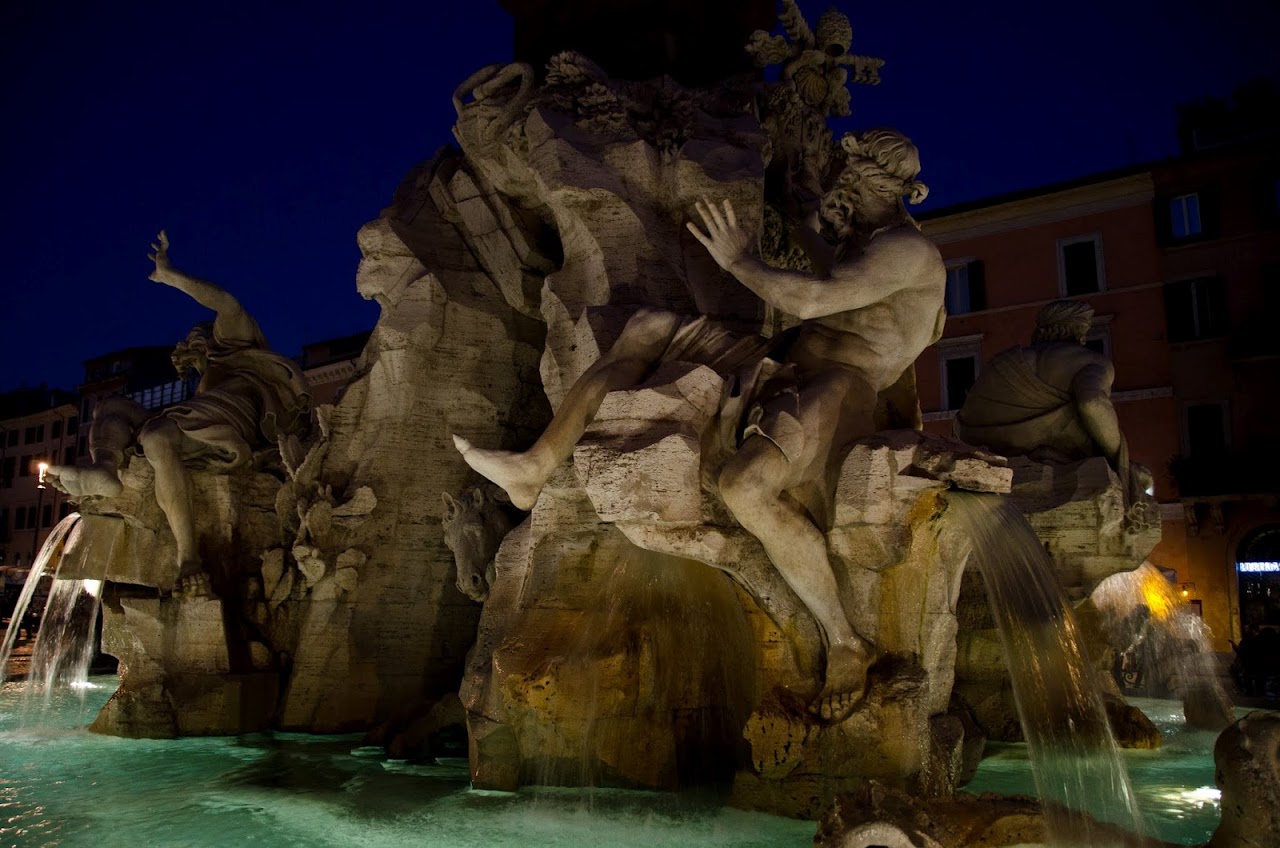 Piazza Navona
Ah, Rome . . . magical, wonderful, impossible to hate.  This was one of the cities we were most excited about traveling with Chewy and Abby because we knew that Rome is an incredibly pet-friendly city.  And, yes, it was!
Roman Nest Apartment
We LOVED our Rome apartment. This gorgeous and spacious two bedroom and two bath apartment included a small kitchen, blazing fast Internet (a rarity in Italy), and a lovely small private garden which was perfect for early morning dog necessities and for us to eat lunch on sunny afternoons.  Surprisingly, there is free street parking right in front of the house so we were able to park our car for the entire stay and used the car to take the dogs to the park every morning (more on the park below.)
To get to the major tourist sites, we took the bus directly across the road from the apartment.  During peak hours, we usually didn't have to wait for the bus for more than five minutes and we were at Piazza Navona and Campo de Fiori within 15 minutes.  In non-peak hours, the bus was not very frequent so keep that in mind when planning your schedule.  The house is a 10 minute walk to Vatican City or you can take the bus and be there in less than 5 minutes.  The metro is down the hill to the right hand side (a bit tricky to find the first time) but very convenient to get to the Colosseum and other major sites on the Metro line.
Lastly, Maria and her husband were wonderful hosts and made us feel so welcome in our apartment.  They were so excited to meet the dogs and pet them and we absolutely loved staying at their place.  We highly, highly recommend this house as an excellent pet-friendly (and human-friendly) option in Rome.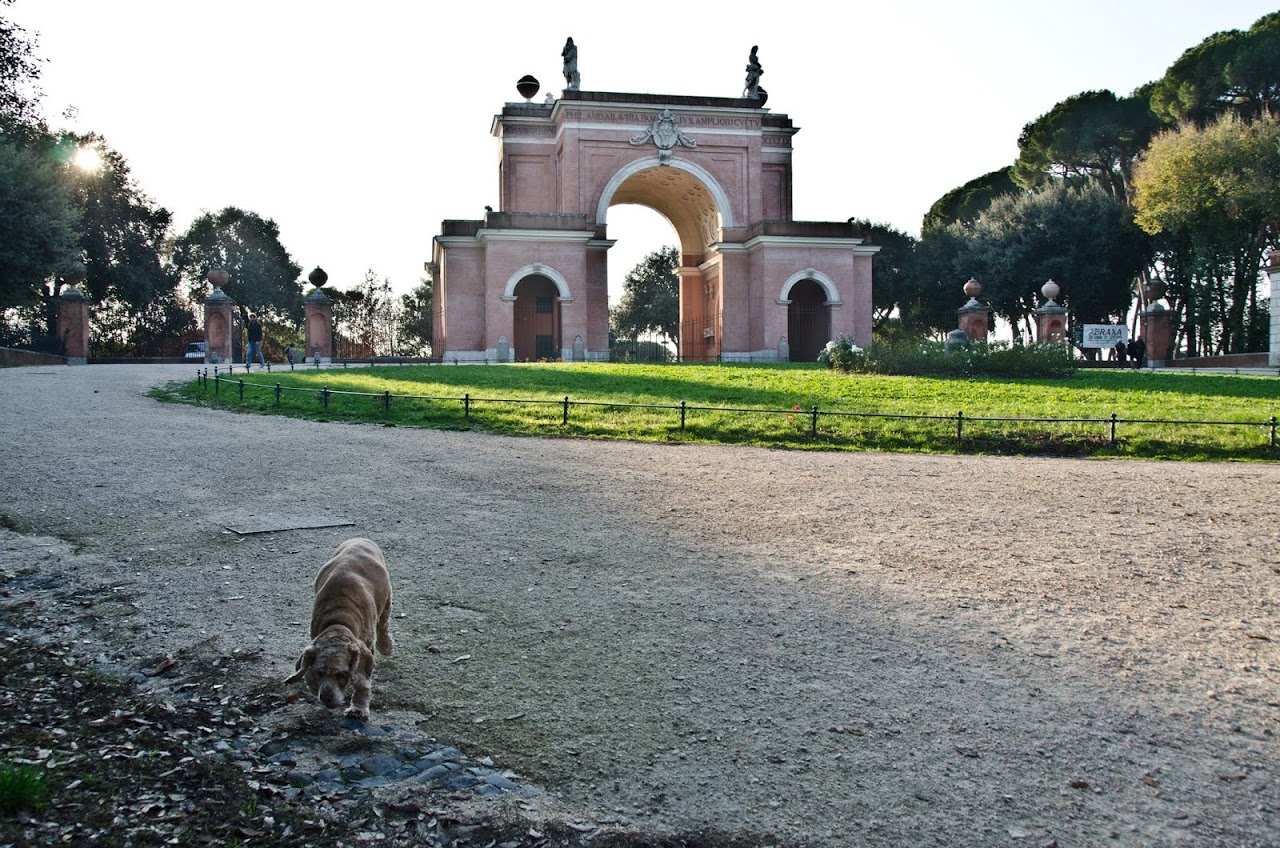 Villa Doria Pamphilj
Villa Doria Pamphilj, the largest park in Rome, is a short five minute drive from our Rome apartment and we took the dogs out there every morning for a walk in the beautiful greenspace.  Villa Doria Pamphilj is a dog haven and Chewy and Abby met many, many Roman dogs while we were there.  The only negative about this park is that parking can be a bit tough.  There is one small parking lot at the southern entrance of the park and street parking, but the street is VERY busy so be careful when taking your dogs to this park.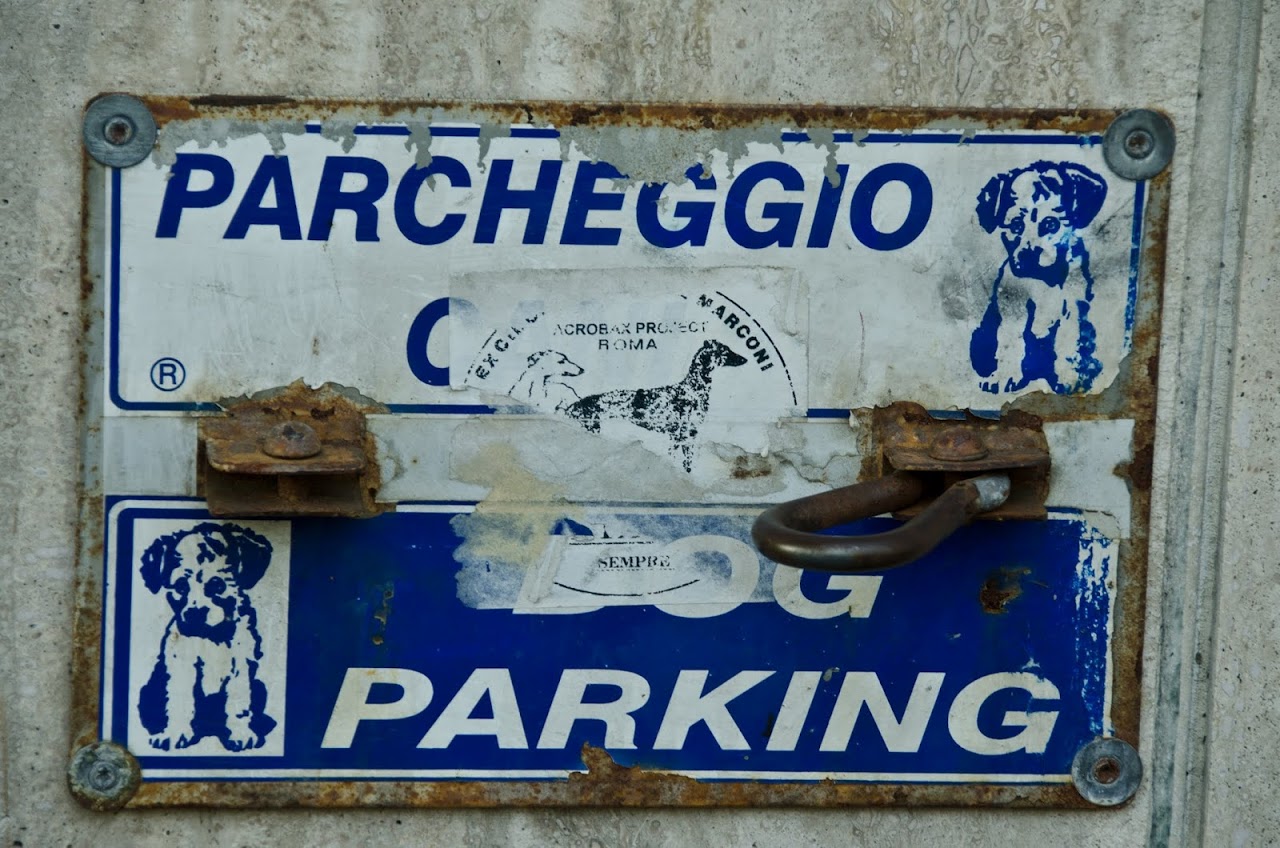 Dog parking in front of a Roman grocery store
A note on general attitudes toward dogs in Rome
Romans love dogs.  Like much of western Europe, dogs are allowed inside the Metro (though not on escalators), in many apartment rentals and hotels, and inside many restaurants.  We found "dog parking" stations across Rome where people parked their dog while shopping inside a non-pet-friendly store.
However, all this being said, Rome is not a particularly easy city to navigate with dogs, in part because it is so big and bustling and, unlike Barcelona and Madrid , there aren't many neighborhood parks.  Most dogs do their business on the street which can make for some tricky maneuvering (always watch those shoes!) though most locals have a car which they use to bring their dogs to Villa Doria Pamphilj or the Villa Borghese.
As in other parts of Italy, dogs are usually kept off-leash in parks.  If you plan to walk with your dog off-leash, I recommend keeping them on tight voice control because Roman parks and piazzas tend to be busy all day long.
Unfortunately, we didn't have much time in Rome so we weren't able to take Chewy and Abby to visit the Colosseum or any of the other big attractions but we definitely want to take them back with us to beautiful Rome!